IFC: St. Michaels made to pay for their lack lustre performance
April 13, 2015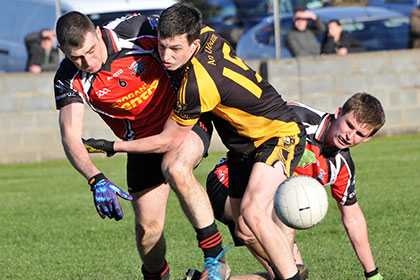 Philip Rogers and Sam Briody St Michaels with Sean Meade Nobber during the opening round of the Meath IFC at Drumconrath.
Nobber 1-14  (0-10)  St Michaels 1-9 (0-4)
Nobber got their Intermediate championship off to a good start with this five point victory over neighbours St Michaels at Drumconrath on Sunday evening.
Nobber were the dominant side in the opening half with centre field gaining the upperhand supplying good fast ball to the forwards and the backs dealing capably with any threats that came their way. With Fiachra McEntee on top form at corner forward scoring 3 good points and been fouled for 2 more converted frees,  the hard running Sean Meade attacking at every opportunity Nobber were enjoying a purple patch.
Further points in this half from the Farrell brothers, Jamie Owens,Sean Meade,and Brendan Heffernan Nobber turned over leading 10/4 at the break.
On the restart Sean Meade sent over to stretch Nobbers lead to seven.
Then came the expected St Michaels revival which saw them score 1 03 between the 33rd and 47th minutes without reply to cut the score to the minimum.
A 48th minute point from play from Niall Farrell followed by a Brian Farrell free steadied the Nobber nerves.
Eventhough the Michaels responded their chances were dealt a severe blow in the 53rd minute when Sean Meade after been set up by a clever punt forward from Jamie Owens weaved his way through to finish to the net and confirm Nobbers superiority
Brian Farrell concluded Nobber's scoring with a well taken 58th minute point.
Best for Nobber were Sean Meade, Fiachra McEntee, Pauric Weldon, the Farrell brothers, Gavin Farrelly and Jamie Owens.
Scorers - Sean Meade 1-2, Brian Farrell 0-4, Fiachra McEntee 0-3, Niall Farrell 0-2, Jamie Owens 0-1, Brendan Heffernan 0-1, Alan Farrell 0-1.
Nobber - C O Reilly P Weldon B Meade C Halpin B Heffernan R Shields B O Reilly A Farrell G Farrelly C Clarke B Farrell N Farrell F McEntee J Owens S Meade.
St Michaels Report
St. Michaels 1-9
Nobber 1-14
St. Michaels were made to pay for their lack lustre performance in the opening half of this Intermediate championship match played in Drumconrath on Sunday evening. Nobber dominated from the throw-in and were full value for their 6 point interval lead.                                              
Nobber had 3 points ( 2 frees ) on the board before Jamie Farrelly opened the St. Michaels account on 11 minutes and another 11 minutes had elapsed before they troubled the scoreboard attendant again when Peter O'Connell fired over. By this stage Nobber had 7 points registered and could have been out of sight had Mark Stafford not cleared a goal bound shot off the line with 'keeper Paul McCormack beaten. Two further points from Ronan Lynch and Ronan Cassidy completed the first half scoring for St. Michaels. Nobber who could do nothing wrong in front of the posts added 3 more points to go in at the break 6 points to the good, 0-10 to 0-4.                                   
St. Michaels emerged sharper after the break and a J.B. O'Reilly point opened their second half account on 3 minutes, two minutes later Ronan Lynch found the back of the Nobber net after good work from his brother David and Ronan Cassidy, that goal reduced the deficit to two points, Nobber replied almost immediately with a point, then on 41 minutes J.B. O'Reilly was brought down just outside the square as he headed goal-wards and Ronan Lynch tapped over the resultant free to put two between the sides again. St. Michaels who were now playing with more fire in their bellies brought the game back on level terms on 48 minutes after a pointed free from Jamie Farrelly and another converted free from Ronan Lynch after substitute Ciaran Lynch was fouled, however Nobber replied quickly and they fired over 3 unanswered points in a 5 minute spell to regain their grip on the match.
St. Michaels were reduced to 14 men when Kevin Cassidy received his marching orders on a second yellow. Although St. Michaels were competitive at different stages of the second half they couldn't make it count on the scoreboard and a Ciaran Lynch effort was all they produced in the final 12 minutes of the game. Nobber sent over their final point on 58 minutes to record what was a deserved win. Along with the scorers Philip Rogers put in a good hours work for the losers.
St. Michaels team and scorers: Paul McCormack, John Stafford, Jamie Reilly, Mark Stafford, Matthew Halpin, Philip Rogers, Sam Briody, J.B. O'Reilly 0-1, David Lynch, Peter O'Connell 0-1, Ronan Cassidy 0-1, Kevin Cassidy, Oran Meehan, Jamie Farrelly 0-2, Ronan Lynch 1-3. Subs: Christopher Drew for John Stafford, Ciaran Lynch for Oran Meehan, Patrick Clarke for Sam Briody, John Reilly for Ronan Lynch.
Referee: Colm McManus
Report and photo Pascal Reilly.

 
Most Read Stories