IFC: Cortown back with a bang
April 12, 2015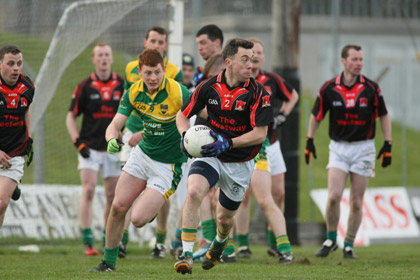 Declan Clarke breaks out of defence for Cortown in their opening round victory over Clann Na nGael in the IFC at Pairc Tailteann
Cortown 3-10
Clann na nGael 1-9

The Junior champions have announced their arrival back in the Intermediate championship in some style after a brilliant 7 point win against Clann na nGael in Navan on Saturday evening.

Wrote off by almost everyone during the week, Cortown believed they could leave Navan with two points on Saturday night and thankfully that was the case.

They setting of course brought back fond memories of the Junior glory from last October but that's the past now and Cortown have ambitions of pushing on and continuing the progress and rise. The game came too soon for key men Gary Coyne and Brian Faulkner who has close connections with Athboy so he was disappointed to miss out with an ankle injury.

Clann na nGael were at full strength and the word coming out of Athboy was that Shane McAnarney had them flying fit but for long stretches of the game, they got the run around from Conn Clearys men in black. I say black because due to the colour clash Cortown had to wear Kilmainham jerseys...just as well it wasn't a fashion show because had it been, Cortown would have been a disaster with green and white socks and shorts with black jerseys.

Playing against a stiff breeze in the first half it was a cagey opening from both sides but some beautiful intricate play between midfielders Daragh O'Halloran and Richie Flanagan eventually reached Brian Smith who spinned Darren Kelly and scuffed a shot in off the upright and Cortown raised the green flag. That was Smith's first touch of the ball since his last touch last October which also resulted in a decisive goal at the hospital end.

It was the perfect start for Cortown who were quick to push and did so when David Rispin extended the lead to 4 with a point. Athboy eventually came to the party courtesy of the veteran corner forward Gary Woods. Cortown then lost one of the best veterans in the county and the talismanic Glen Loughran to a hamstring injury and he was replaced by the warrior Ivor O'Halloran who turned 35 last week.

Richie Flanagan was having a storming game and he made a barnstorming run towards goals and when winding up everyone looked anxiously but fear not because Flanagan with his weaker left hand drove the ball about 20 foot over the ball from 21 yards! Athboy responded but they were kicking some poor wides and Cortown backs were firmly on top with Paddy Kerrigan and John McGearty particularly outstanding in the full back line. The half back line were supplying serious ball into the potent full forward line spearheaded by the dynamic duo of O'Rourke and Rispin who were causing plenty of problems for Athboy with the Smiths; Brian and Tommy working magnificently from the half forward line.

Cortown kept the squeeze on and O'Rourke pointed from a free after Rispin was fouled. Brian Smith then picked out Rispin superbly and he fisted over as Cortown maintained the 4 point advantage. Clann na nGael kept plucking away and Caoimhe Griffin got some good ball into Woods and Fitzimons who kept the scoreboard ticking. O'Rourke then looked up and spotted Rispin who won a free which was tapped over by the former from the resulting free.

Cortown were dominant in midfield and had backs like Stevie Clarke and Declan Clarke making good runs as well as defending stoutly. 
O'Rourke again put three in it coming up to half time with a speculative effort with the outside of his left boot before Brian Smith fed Rispin with the last action of the first half and he turned his man and made a beeline for the goal and cooly found the corner of the net and Paul Mooney blew the whistle for half time and Cortown retired to the dressing room to almighty roar from the sizeable Cortown barmy army.

Perhaps Cortown took their foot off the pedal or Athboy were having their inevitable purple patch but Clann na nGael made a rip-roaring start to the second half and within 10 minutes they reeled off 1-2 and the gap was suddenly down to one. Cue the Cortown spirit and character and Rispin found captain Kevin McGuiness who got a real inspirational captains score reminiscent of his score in the drawn game against Dunboyne.

The pendulum was turning once more as Ivor O'Halloran who was having a typically solid game slipped in Rispin who somehow got the point from a real acute angle with his left boot. Brian Smith then got a priceless couple of free right in front of the posts which was tapped over by O'Rourke and Cortown led by 3 again.

Disaster struck then as Tommy Smith received a straight red card, a very questionable decision from Mooney as things heated up. Pushing for scores, Cortown caught Clann na nGael on the break and Smith carried before dishing it off to O'Rourke who made no mistake and found the corner for a crucial goal. The men in green huffed and puffed but there was no breaking down the mighty Cortown who threw bodies at the ball with Daniel Murphy, Kerrigan and McGearty impressive whilst the O'Halloran brothers rolled back the clocks with brilliant displays. Ivor broke his nose for the third time but he said he'd be happy to win every game if it means breaking it!

The insurance point came right at the death after Rispin was fouled 45 yards out, O'Rourke pointed a monster free for his fifth. It was sheer delight at the final whistle and you could see what this meant to the players especially after the sad passing of Mrs Keane on Friday, this result and performance was for Pat and the Keane family who have done so much for Cortown GFC over the years.

It's been a difficult start to the year with no win's in the league but Cortown in the championship and Cortown in Navan are a different animal altogether! They're now undefeated in championship football since September 2013, almost 20 months! What's more is that they now are undefeated in their last 6 games in a row in Navan. The players will be delighted to hear that's where the second round is against Nobber on Friday week and watch out because Cortown will be hard bet!

Cortown: John McFadden, Declan Clarke, Paddy Kerrigan, John McGearty, Stephen Clarke, Daniel Murphy, Colm Kerrigan, Daragh O'Halloran, Richie Flanagan (0-1), Tommy Smith, Brian Smith (1-0), Ryan O'Rourke (1-5,4fs), Kevin McGuiness (0-1), Glen Loughran, David Rispin (1-3). Subs: Ivor O'Halloran for Loughran, John Casserly for I O'Halloran (blood sub), Casserly for B Smith.

Cortown 3-10
Clann na nGael 1-9
A goal after less than a  minutes play from Cortown ensured that they were never headed in this first round intermediate encounter in Pairc Tailteann on Saturday evening.
Clann na nGael  battled back from this poor start with a but found the pace of the Cortown forwards hard to match.The Athboy side were struck another hammer blow just before half time when Cortown netted for a second time to leave the half time score Cortown 2-5 to Clann na ngael 0-5.
The introduction of Darragh Grffin at half time stirred the Athboy outfit somewhat after the break and they pinned their opponents back for long spells cutting the gap back to 3 points when  Caoimhin Griffin scored a well taken Goal.
Cortown looked in trouble when the had a man sent off with 15  minutes left but a couple of break away scores kept them ahead.When Cortown scored their 3rd goal with 5 minutes left they had secured the win and left Clann na nGael facing a must win next Sunday against Donaghamore/Ashbourne.
Clann na nGael: Gary Hanley, Gavin Browne, Brian Duffy, Oran Fitzpatrick, Anthony Farrell, Darren Kelly, Jamie Shaw, Ciaran Smith, Caoimhin Griffin, Luke Swaine, Darragh Brogan, Eammon ODonnachada, Aarron Ennis, Ciaran Fitzsimons, Gary Woods. Subs - Darragh Griffin, Colie Griffin, Damien Tuite.
Most Read Stories