IFC: Dunderry and Coogan too hot for Ballivor
April 12, 2015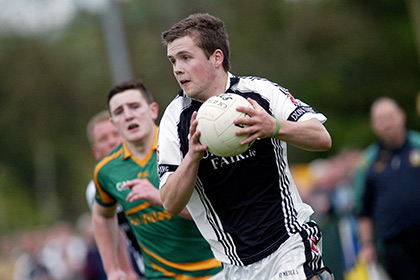 Dunderry's Stephen Coogan
Dunderry 1-15
Ballivor 0-6 
This opening round of the I.F.C between Dunderry and Ballivor was played in dry conditions but with a strong wind blowing towards the clubhouse end.

Ballivor played with the wind and had a few chances but all were put wide, at the other end they were conceding too many free's and Stephen Coogan was in a punishing mood and he put 3 points from free's on the board before Ballivor registered a score. In the 15th minute Andy Coogan got a knock down from Liam Dempsey and played a quick defence splitting pass for Simon Carty to run onto and used his pace to get away from 2 defenders and slid the ball calmly passed the out rushing keeper. Again S.Coogan hit a 4th free. then Paddy Kennelly got a ball from Luke Martyn turned 2 defenders and placed the ball over the bar. Dempsey and Conor Farrell were immense in the midfield and the back line of Aron Newman, Seamus Harte and Conor O'Shea cleared up any danger coming through. Kennelly scored another superb point with his weaker foot and S.Coogan scored a point after good work from Alan Watters and Carty. Gareth Dooley came into the action when a Ballivor forward broke through one on one with the Dunderry keeper and he smothered the shot with his knee's to leave the score 1-7 to 0-3 in favour of Dunderry.
2nd half was the same Dunderry moving the ball fast utilizing space and picking up points, 2 minutes into the 2nd half S.Coogan scored a well taken point after good play between A.Coogan and Kennelly. Then a sweeping move from halfback involving Evan Stephens, Conor Dempsey, Farrell and Martyn who found C.Dempsey still moving through the middle and from 25yrds out he put it over the bar. After some very close and sometimes too close style of marking S.Coogan added 2 more free's and Kennelly proving a thorn in Ballivor's side knocked over 2 more points. Stephens and Watters also scored points to round off a comfortable win and leave the final score 1-15 to 0-6 to Dunderry next up is a local derby in Rd 2 against Trim Friday night.
Dunderry: G.Dooley, A.Newman, S.Harte, C.O'Shea, C.Dempsey (0-1), E.Stephens (0-1), D.Clarke,L.Dempsey, C.Farrell, A.Watters (0-1), L.Martyn, A.Coogan, P.Kennelly (0-4), S.Carty (1-0), S.Coogan (0-8,6f's). Subs: S.Maguire, D.Conroy, D.Mahon, E.Dempsey, S.Clarke, J.Martin, T.Doherty, D.Callaghan, M.Kane, E.Daly, P.Casey, B.Doherty, D.Gilkeson, C.Fitzgerald
Most Read Stories