SFC: St. Peters stroll to win against Duleek/Bellewstown
April 11, 2015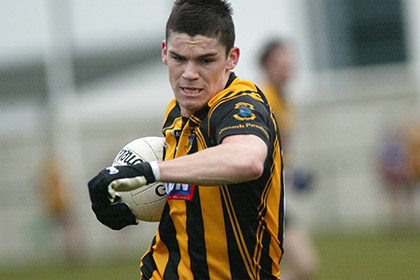 Dunboyne's Donal Lenihan
St. Peters Dunboyne gained an opening round victory against Duleek/Bellewstown on a cold windy Friday evening in Ashbourne on a scoreline of 1-16 to 1-4 the result of which was never in doubt.

The game was held up for almost an hour at half-time when an injury to Duleek player Anthony Burke led to an ambulance been called.
Dunboyne were quick out the blocks in the first half and were three points after 10 minutes through well take scores from Ronan Jones, Stephen Moran & close range free from Donal Lenihan. This really set the tone for a dominating first half from St. Peters and in doing so restricted Duleek to only two first half points. Cathal Finn was causing plenty of headaches for Duleek with his blistering runs through the centre in the first period and the remainder of the half turned into the Donal Lenihan show as he added 1-4 in nearly 15 minutes which included a penalty after some good work from Michael Dunne along with two more frees and another point from play.
Then came the delay towards the end of the first half after a collision between Michael Dunne & Anthony Burke led to Burke being attended to on the ground and eventually taken away in an ambulance. By the time the game restarted at 9.44pm it was just a matter of playing out the time for St. Peters but the second half turned out to slightly more competitive.
Duleek added on two early scores in the second half only to be cancelled out by two more Lenihan frees who was excellent from frees and general all round play. A rare lack of concentration in the Dunboyne defence led to the Duleek goal which gave them a glimmer of hope but the gap was always too much to peg back. Full forward Michael Dunne received his marching orders towards the end of the half for two questionable yellow cards but it didn't affect the drive of the Dunboyne team who seen out this game with four more points from Jones, Doran and two more from man of the match Donal Lenihan
St. Peters Dunboyne lined out as follows: 1. Johnny O'Connor 2. Johnny Meehan 3. Jack Scannell 4. Damien Sweeney 5. Colin Clarke 6. Shane McEntee 7. Conor Doran 8. David Gallagher 9. Thomas O'Connor 10. Ronan Jones 11. Donal Lenihan 12. Stephen Moran 13. Shane Comiskey 14. Michael Dunne 15. Cathal Finn Subs - Gavin McCoy for Thomas O'Connor.

SCORERS: Donal Lehinan 1-10 (5f's, 1P), Ronan Jones 0-2, Cathal Finn, Conor Doran, David Gallagher & Stephen Moran all 0-1 each
Most Read Stories