IFC: Two from two for Clann
April 21, 2014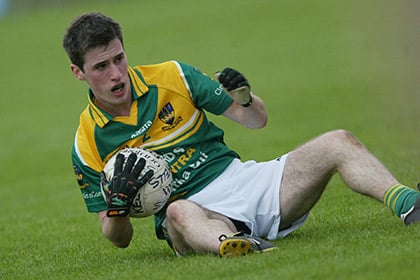 Clann Na Gael's Carl Kelly
Clann Na nGeal 4-10
St.Ultans 1-12
Clann Na nGael made it two wins from two with this victory over St Ultans played in lovely conditions in Kells on Sunday afternoon.
This win was based on a solid team performance. This was a very entertaining game of football played by two very committed teams. Two very well taken goals by Ciaran Fitzsimons before half time sent the Athboy/Rathcairn lads in at the break leading 2-5 to 0-6. Gavin Browne, Oran Fitzpatrick, Carl Kelly excelled at the back in that first half when St.Ultans put on the pressure.
A Graham Geraghty goal after half time put more daylight between the teams and Clann Na nGael led by seven points at one stage, but St.Ultans came back and got it down to two points with five minutes remaining. A goal from Ronan McDonagh after great work from Martin Keogh and Graham Geraghty sealed the victory.
Best for Clann Na nGael in a good team performance were: Ciaran Fitzsimons, Gavin Browne, Carl Kelly, Caoimhin O'Griofa and Oran Fitzpatrick.
Clann na nGael - 1. Anthony Swaine 2. Carl Kelly 3. Anthony Cully 4.Gavin Browne 5. Brian Duffy 6. Oran Fitzpatrick 7. Paddy Tiernan 8. Jamie Shaw 9. Gary Woods 10. Luke Swaine 11. Anthony Farrell 12. Ciaran Fitzsimons(2-2) 13. Gary Hanley 14. Graham Geraghty (1-0) 15. Caoimhin O'Griofa (0-5). Subs - Ronan McDonagh(1-2) for Anthony Farrell, Aaron Ennis for Luke Swaine and Martin Keogh(0-1) for Gary Hanley.
****
St. Ultans report:
St Ultans went down to Clann na Gael played 4.10 to 1.12 in sunny Kells on Easter Sunday.
The opening half was close throughout with both teams trading early points with Ultans scores coming from the very impressive Ronan Breslin who scored 4 points and one each from Conor Smyth and Cian Rennicks.
The defining moments were just before half time break when the Clann's worked 2 well taken goals and went into half time break leading
2.05 to 0.06
The second half started badly for Ultans loosing a player to a straight red card. They battled hard throughout and despite conceding a third goal in 10th minute rallied and worked a well taken goal from Cian Rennicks with 8 minutes remaining to leave 2 between the sides.
That was as good as it got as Clann na Gael rallied to finish strongly.
Best for St Ultans on the day was Conor Smyth, Ronan Breslin, Sean Power and Darren Mallon.
Scorers
Ronan Breslin 0-06
Cian Rennicks 1-03
Mark Allen - 0-01
Sean Power - 0.01
Conor Smyth - 0-01
Team
1 Robbie Dally
2 Ciaran Timmons
3 Declan Galligan
4 Jason Bennett
5 Ronan Galligan
6 Darren Mallon
7 Gearoid Rennicks
8 Kevin Galligan
9 Sean Power
10 Robert Duffy
11 Cian Rennicks
12 Mark Allen
13 Ronan Breslin
14 Conor Smyth
15 Stephen Quirke
Subs
Darren Costello for Robert Duffy
Emmet Costello for Ronan Breslin
Most Read Stories