IFC: Ballivor pip Ratoath
April 20, 2014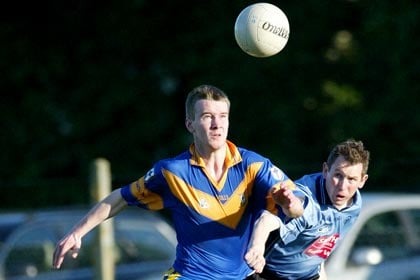 Ratoath's Eoghan McMahon
Ballivor 2-10
Ratoath 2-9
Saturday evening provided a much deserved one point win for a hungrier Ballivor side over Ratoath in Dunsany. The margin of victory might on another night have been more than the minimum had Ballivor not kicked in excess of 20 wides as they held the majority of posession throughout the contest.
Thanks to the quality and economy of their forward play Ratoath led for most of the game until their own shooting let them down in the last quarter of the game.
Ballivor started the game with the strong wind at their backs and laid siege to the Ratoath goal with little to show for it as the sides drew level at 0-2 each after 10 minutes.
Former Meath dual star Máirtin Doran caused all sorts of problems for Ballivor in a free role early in the game playing deep and taking some excellent scores. Brian Power and Eoghan McMahon opened Ratoath's scoring followed by an excellent points from Emmet Boyle and Bobby O'Brien.
On a limited supply of ball O'Brien and especially Eoghan McMahon caused the Ballivor full backline all sorts of problems in that first half and both were involved in a devastating move that saw Gavin Quigley break through on goal and blast a cracking shot off the underside of the crossbar and follow up his own shot to palm to the net. Bobby O'Brien followed up with an excellent point to leave Ratoath a flattering 1-5 to 0-4 ahead as Ballivor's shooting continued to let them down.
With the wind at their backs for the second half Ratoath would have been expected to push on and indeed it looked that way as Eoghan McMahon finished an excellent individual goal followed by a great point from Conor Rooney stretching their lead to 8 points.
Ballivor then scored a goal and two points of their own and in Padraig Geoghegan had the best player on show dictating the pace of the game and from here to the end he cut loose when his man was dubiously black-carded.
Brian Power and Conor McGill contested manfully for every kickout at midfield however Ballivor mopped up all of the breaking ball and after they scored a second goal, men were dropped back and led by the inspired Doran and Geoghegan thwarted many of Ratoath's attempted counter attacks from deep.
Four more black cards were produced and a spattering of yellows in what was a very sporting game and as it happened Ratoath would have no need for a freetaker as they weren't awarded a shot at goal for the hour.
Ballivor dug deep and defended their two point lead tenaciously with Bobby O'Brien pulling one back but a number of missed chances to draw the match would be rued by the final whistle.
On a night when Ballivor recorded a fully merited victory Emmet Boyle, Bobby O'Brien and especially Eoghan McMahon performed best for Ratoath.
Ratoath: Colm O'Riordan, Paul Flaherty, Darragh McGill, Paddy Quinn, Brian O'Connor, Stephen O'Brien, Gavin Quigley (1-0), Brian Power (0-1), Conor McGill, Conor Rooney (0-1) Bryan McMahon, Emmet Boyle (0-1), Eoghan McMahon (1-3), Bobby O'Brien (0-3), Gareth Rooney . Subs: Mark Daly for G Rooney, Brian Daly for S O'Brien, Gavin Eiffe for Quinn (all black cards)
Most Read Stories