Meath SHC final: Kilmessan clinch title with double scores win
October 06, 2013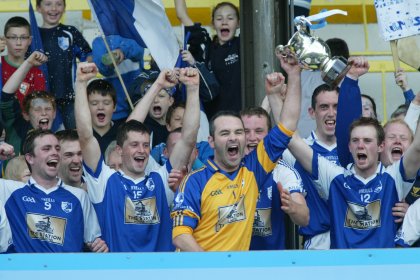 Kilmessan captain Mark Brennan raises the Jubilee Cup to the delight of his team mates at Pairc Tailteann.
TO VIEW A SELECTION OF PHOTOGRAPHS FOR THIS GAME CLICK HERE
Kilmessan 2-16
Longwood 0-11
Kilmessan claimed the Ted Murtagh SHC title with a strong final quarter showing that saw them run out double scores winners over Longwood at Pairc Tailteann on Sunday.
Heading into the final quarter, Longwood - in quest of their first SHC title since 1936 - were just a point in arrears. Kilmessan responded by outscoring their south county opponents by 2-6 to 0-2 in the latter stages.
When Kevin Keena doubled the Kilmessan lead, it didn't seem significant. The next score was with sub Stephen Clynch finishing a move he began out the field with a goal at the old swimming pool end.
Then team captain and goalkeeper Mark Brennan made two significant interventions to deny Aaron Ennis and Anthony Healy, the latter at the expense of a 65, goals that would have revived Longwood.
Spurred on by this let off, Kilmesssan - with free taker Darren Reilly leading the way - extended their lead while the icing on the cake was applied with a point and a goal from the experienced Nicky Horan.
Darren Reilly topscored for Kilmessan - eight frees and a 65 - and picked up the 'Man-of-the-Match' award. The game produced a significant number of scores from placed balls with Nicky Horan getting the winners' other point from a free, near the end.
Nicky Horan emerged as Kilmessan's top scorer from play, with a point and then a goal that arrived in stoppage time at the end of the game. While six pointed frees left Anthony Healy as Longwood's top scorer, Ryan Moore was the only member of the losing side to register more than once from play.
After the exciting climax to the IHC final, there was a low key opening to the senior decider. Wind-assisted Kilmessan made an early impression with three points in the opening ten minutes.
A Ger O'Neill effort from play was sandwiched between two Darren Reilly frees. Nearly 14 minutes elapsed before Longwood got off the mark through an Anthony Healy long range free.
Kilmessan continued to boss matters, posting two of the next three scores that included Darren Reilly third pointed free and a Danny Maguire effort from play.to leave the side that tops the SHC-winners roll of honour 0-5 to 0-2 to the good with a third of the hour gone.
Things got even better for Kilmessan and by the 27th minute it was 0-8 to 0-3 after a Malcolm Doyle effort from play and a Reilly 65 left five points in it.
Having missed a free from just inside his own half, Anthony Healy landed his third placed ball of the opening 30 minutes. The biggest cheer of the of the game thus far was in response to an Eoin Lynch effort from play in the third minute of stoppage time.
Having played with the breeze and improving conditions in the first 30 minutes, Kilmessan led by 0-8 to 0-5 at the break. Longwood would have the back of the elements that included the sun that made its first appearance in the run-up to half-time.
Playing towards the town goal Longwood responded well to Darren Reilly fifth point from a placed ball with two scores from play that roused their supporters. Aaron Ennis and Ryan Moore got the scores that trimmed the deficit to just two points by the 35th minute.
Another Reilly free steadied Kilmessan to leave it 0-10 to 0-7 in favour of the side in royal blue jerseys. Longwood replied to cut the deficit to the minimum, 0-9 to 0-10, by the 46th minute.
It was as good as got for Longwood as Kilmessan cut lose in the final quarter to claim their 29th title and first since 2008 when they went on to win the Leinster Club Intermediate title.
Mickey Burke claimed Longwood's final score, in the third minute of stoppage time, just before Malcolm Doyle placed Nicky Horan for the final's second goal.
Kilmessan - Mark Brennan; Pauric Maguire, Shane Brennan, Paddy McGovern; Eoin Marsh, Peter Farrell, Richie Donnelly; Martin Horan, Darren Reilly (0-9, 8fs, 1 65); Ger O'Neill (0-1), Charlie Keena (0-1), Kevin Keena (0-1); Danny Maguire (0-1), Nicky Horan (1-2, 0-1f), Malcolm Doyle (0-1). Subs - Stephen Clynch (1-0) for M Horan (ht), Sean Doyle for C Keena (48), Paul Grimes for K Keena (52), Anton O'Neill for Maguire (60), Kevin O'Reilly for Doyle (60).
Longwood - Alan Ennis; Nathan O'Neill, Enda Dixon, Chris Lynch; Joey Stenson, Mickey Burke (0-1), Ray Dorran; Eoin Lynch (0-1), Karl Ennis; Ryan Moore (0-2), Damien Healy, Coran Byrne; Aaron Ennis (0-1), Rory Maguire, Anthony Healy (0-6 fs). Subs - John Furey for Byrne (42), Bernard Reilly for Stenson (53), Mick Healy for Dorran (53).
Referee - Nick Fitzgerald (Kildalkey)
Most Read Stories