IFC: Gaeils reach final
September 30, 2013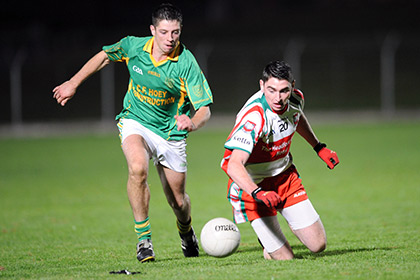 Castletown's Gerry Farrelly with Gaeil Colmcille's Keith Reilly during the Meath IFC semi final at Pairc Tailteann
Gaeil Colmcille advanced to the Meath intermediate football championship final with this well earned victory over Castletown under lights at Pairc Tailteann
Gaeil Colmcille   2-13
Castletown         0-15
Gaeil Colmcille had to hold off a strong second half rally from Castletown, last night and ended up with four points to spare in a fast paced and exciting semi final played in Pairc Talteann.
Castletown were reduced to 14 men following a dangerous tackle on the Gaeils centre forward Danny McGovern in the first 5 minutes. From then on, Kells had some excellent points from Stevie McManus, Brian Hanlon, and Liam Ferguson and also managed to find the net twice with goals from Seamus Mattimoe and Martin Barrett. Castletown found it very difficult to keep track of Danny McGovern whose direct running opened up the their defence at every opportunity. Kells went in at half time with 9 points to the good, 2-8 to 0-5, despite hitting the crossbar on a few occasions.  
In the second half Kells seemed to be out of sight when they led by 2-11 to 0-06 after twelve minutes of the restart. But Castletown showed how they made it this far and dominated the next fifteen minutes with some excelent scores from Declan Cribben, James Finnerty and Kevin Ross. Donal Curtis' men had cut the deficit to three points before Oisin Reilly kicked the last score of the game to settle the issue.
Gaeil Colmcille now meet Clann Na nGael in the final.
Gaeil Colmcille: Justin Carry Lynch, Paul Tormey, Michael Foley, Jonny Quigley, Stephen Reddy, Robbie Flanagan, Liam Ferguson (0-01), Gary Arkins (c), Barry Smith, Seanie Curran, Danny McGovern (0-02), Stevie McManus (0-01), Seamus Mattimoe (1-01,1f)  Martin Barrett (1-01), Brian Hanlon (0-06,2f)
Subs: Declan Smith for P Tormey, Keith Reilly for  S McManus, Oisin Reilly (0-01) for S Curran, Henry Barry for D McGovern, Cormac Keegan for G Arkins. 
Castletlown: P.Smith, J.Carry(0-1), F.Hoey (red card), J.Metry, K.Smith(0-1), G.Farrelly(0-1), R.Blaney, R.Hoey, S.Hoey, D.Cribbin (0-3), D.Ginnitty (0-1), D.Finney, T.Smith(0-1), B.Smith(0-1),
K.Ross (0-3)
Subs: N.Farrelly for B.Smith, P.Cribbin for D.Finney, J.Finnerty (0-2) for D.Ginnitty
Most Read Stories