SFC Relegation: Oldcastle retain senior status
September 30, 2013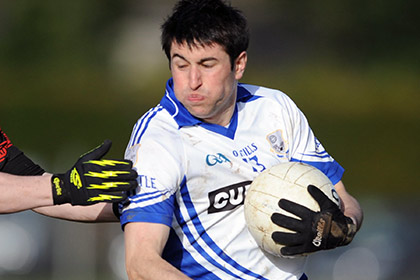 Paddy Gilsenan was central to Oldcastle's success
Oldcastle made sure that their name will be in the hat for next years Meath senior football championship draw with this one point win over Dunshaughlin in a relegation play off Simonstown.
Oldcastle 0-12
Dunshaughlin 0-11
Robbie Farrelly and county player Paddy Gilsenan proved to be the heroes for the North Meath club each scoring four points. Gilsenan sealed Oldcastle's victory with a superb point in injury time.
Best for the winners were Conor McHugh, Darren Hawdon, Cian McPartland, Robbie Packenham, Alan McCann, the Farrelly Terry and Ronan and Gilsenan.
Oldcastle: C.Mc Hugh, D.Hawdon, C.McPartland, M.Cadden, R.Packenham,0-1, T.Farrelly0-1, A.McCann, S.Tierney, P.Rahill, Ronan Farrelly, 0-1, R.McHugh, E.Gilsenan(0-1, Robbie Farrelly 0-4, P.Gilsenan0-4, T.Rahill.
Most Read Stories