SFC Relegation: Dunshaughlin secure
September 23, 2013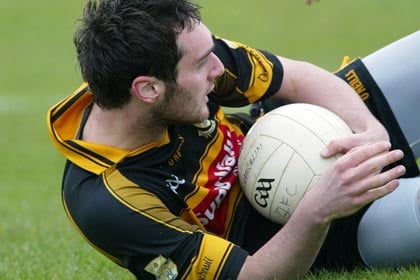 Dunshaughlin's Tommy Johnson
Dunshaughlin 1-11
Nobber 1-09
It was very much a case of go steady, go easy, go on as Dunshaughlin secured their Senior status after a hard fought win in somewhat Mediterranean conditions in a balmy Brews hill on Saturday evening, Buoyed the return of the yank duo Fergy Delaney who spent the summer rambling and gambling the streets of New York and Tommy Johnson from San Francisco a near strength Dunshaughlin had their own version of escape from Alcatraz to overcome in this crucial relegation game. It was Nobber who started the game in a blistering pace with them needing only 10 seconds to score the opening point of the game and another two minutes later with Gordon Weldon giving an good account for himself meant this game had all the makings of a slugging match that would go to the the end.
Ray Maloney found himself in unfamiliar territory lining out at full forward and it was beautiful high catch from the electrician that sparked Dunshaughlin into life with the Nobber full backline not being able to cope with Maloney and Donal Smyth awarding a penalty. Eoin Hagarty duly dispatched from the spot and got Dunshaughlin off the mark and a trademark Fergus Toolan score after 12 mins following some great work from Caoimhin King meant that Dunshaughlin were in survival mode and were not going down without a fight.
Nobber however were staying in the game and were very impressive in front of the goals with some fine point scoring in particular from Brian Farrell but Dunshaughlins "go to" man Cathal O'Dwyer also brought his scoring boots with him scoring three points in a row for the black and amber and Ray Maloney going on an inspirational run after a fine turnover from Niall Murphy before scoring the point of the match meant that it was all sqare when the first half came to a close.
Things however could have been very different with a Nobber shot cannoning off the Dunshaughlin crossbar a minute before half time so it was Dunshaughlin who felt very fortunate as a few harsh words were uttered at half time. Cathal O'Dwyer was back to his old tricks again after a point 2 minutes into the second half and a converted free from the corner forward had the scoreboard looking more favourable from a Dunshaughlin perspective. Fergus Toolan was now starting to have a big say in this game and a converted free and a score from play had Nobber fighting for their lives and in a bad need of a score.
A minute later the men from North Meath got off the mark but Maynooth student Niall Murphy had other ideas with him going on a powerful run before fisting over the bar restored parity from a Dunshaughlin point of view. Stephen Ward was making his first senior start in 7 years and was starting to come into the game and Conor Devereux who was making his first start in 4 months after a leg break was in determined fashion so it came as no surprise when the trainee accountant scored a superstar score into the Aldi end of the pitch to have the pendulum very much now in Dunshaughlns favour.
In fairness to Nobber they never gave up and their hard work was rewarded on the 28th minute with them scoring their first goal of the game meant we were going to have a pulsating finish to the game. This however was to be the last score of the game so it was heartbreak for Nobber and ecstasy for Dunshaughlin as Donal Smyth blew the full time whistle and Dunshaughlin ran out two point winners.
This was a very important game for the black and amber who have a proud senior tradition since winning intermediate in 1997 so credit has to be given to everyone who put their shoulder to the wheel on the night to secure the victory. On the night Dunshaughlin were best served by Eoin Hagarty, Caoimhin King, Fergus Toolan, Ray Maloney and Cathal O'Dwyer.
Dunshaughlin - R.Gogan, F.Delaney, A.Doyle, M.Aherne, E.Hagarty(1-00), N.Kelly, T.Johnson, F.Toolan(0-03), S.Ward, T.O'Dushlaine, N.Murphy(0-01), R.Maloney(0-01), C.O'Dwyer(0-05)
Subs- C.Devereux(0-01) for N.Kelly
Most Read Stories