IFC: Castletown make last four
September 16, 2013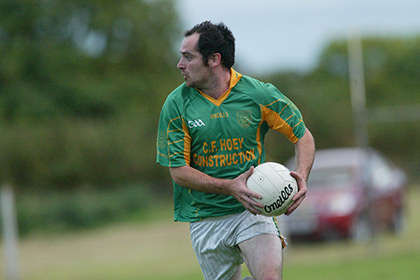 Castletown's Kenny Smith
Castletown 0-11
Dunderry 0-7
Castletown defeated Dunderry to make the last four of the Meath Intermediate Football Championship with a four point win over Dunderry at Simonstown.
A fine defensive display by Castletown provided the platform for this success. Donal Curtis' charges led 0-6 to 0-3 at the break and had good performers in Gerry Farrelly, Darren Finney, Kenny Smith and Kevin Ross.
Castletown scorers: Kevin Ross 0-3, Kenny Smith and Darren Finney 0-2 each, Francis Hoey, Barry Smith, Tommy Smith and Declan Cribben 0-1 each
Castletown Castletown P.Smith, J.Carry, G.Farrelly, J.Metry, K.Smith, F.Hoey, R.Blaney, R.Hoey, S.Hoey, B.Smith, D.Ginnitty, D.Finney, T.Smith, K.Ross, D.Cribbin.
Subs P.Cribbin for D.Finney, N.Farrelly for J.Metry, S.Farrelly for D.Ginnitty and A.Smyth for B.Smith.
Referee David Gough
Most Read Stories