Meath win Tony Forrestal Cup
September 03, 2013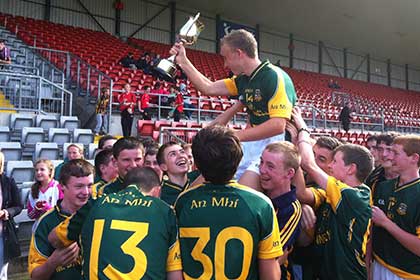 Captain Brian Dowling raises the Tony Forrestal Cup
Meath under 14 hurlers produced some cracking performances last Saturday to win the Tony Forrestal Cup in Newry. Meath were drawn in the only 4 group of the tournament with Mayo, Armagh and the hosts Down.
First up for Meath was Mayo which we won on a score line of 2-08 to no score, team captain Brian Dowling contributing 2-03 with Adam Murphy and Conor Hays with 2 points each and Brin Kelly 0-1 point. From the outset meath were in control where our defence were on top in all positions especially at centre back where Sean Martin gave a display of hurling well beyond what you would expect of any 14 year old. Our midfield pair of Jacob Ryan and Evan Fitzgerald delivered a constant supply of ball to our hard working forwards where Dowling was on top of his game. This coupled with a defence wall of Reynolds, Brennan,
Next up for meath was Down, this was the game we targeted as a must win if we were to progress to the business end of the tournament proper. After a shaky start where we conceded a very soft goal we settled to play some good hurling and caused a lot of problems for Down which led to a number of frees which we didn't convert, this together with some hairy decisions given by the referee in the local teams favour left it very tight but the boys stuck to the game plan and won on a score line of 1-07 to 1-05.
Next up was Armagh and with qualification secured it afforded us the opportunity to rest some of our key players, the standout player here for Meath was Daire Gilmartin scoring 3 of our 5 point total. Final score Meath 0-5 Armagh 0-3.
Semi Final via Kildare
This was a game where the boys had to show some real guts and none more so than Jacob Ryan who put his body on line which ended his participation in the competition due to concussion, with the game heading into the last 5 minutes we were 4 points down with the Kildare supporters starting to celebrate, our Boys made one last push and Conor Hayes finished to the Kildare net, the fight was on, within a minute the same player had his second major and Kildare were on the racks, with our six backs standing tall, O Reilly, Brennan, Devine, Fadden, Martin and the very impressive Hennessy Kildare could not get in for the score they so desperately needed to recover, instead Murphy and Hays added points for Meath, a massive victory for Meath and Parc Esler was our next destination for a final against Westmeath. Meath scorers were Conor Hays 2-0, Brian Dowling 0-5, Adam Murphy 0-2, Brin Kelly, Colm Kiernan and Sean Martin 0-1 each.
At this point Meath supporters had seen some fantastic games and some super individual performances from a lot of players, namely Sean Martin at no6, Steven Quinn at no1, fullback line of Brian O Reilly, Evan Brennan, Daniel Devine, halfback line of Darren Hennessy, Sean Martin, Tom Fadden, midfield Jacob Ryan, Evan Fitzgerald, half forwards Adam Murphy Colm Kiernan, Daire Gilmartin, inside line of Conor Hays, Brin Kelly and Capt. Brian Dowling who contributed 4-14 over the day, our bench when called upon had players like Cathal Reynolds, Evan Buckley, Mikey Mullen, Jamie Leavey, Sean Coffey, Sean Hogan and when called upon were equally as effective as the players making way.
Final via Westmeath
Team lined out as follows, Steven Quinn, Brian O Reilly, Evan Brennan, Daniel Devine, Darren Hennessy, Sean Martin, Tom Fadden, Evan Buckley, Evan Fitzgerald, Adam Murphy, Colm Kiernan, Brian Dowling, Brin Kelly, Conor Hayes, Daire Gilmartin.
This game produced the best Meath had to offer from the outset, the boys were so determined and a will to win beyond belief. From 1 to 15 they battled for their lives, at the halfway stage we were up by 1-04 to 0-6 with 3 of the opposition scores coming from frees, this was one area we had to change and did so accordingly, holding Westmeath to just one major in the second half was the winning of the game together with our forwards adding 1-05 meant that the Tony Forrestal Cup was heading south on the M1 to Co Meath.
Captain Brian Dowling and Vice Captain Cathal Reynolds lifted the cup in front a very happy group of players supporters and mentors.
Most Read Stories