SFC: Donaghmore Ashbourne bounce back
April 21, 2013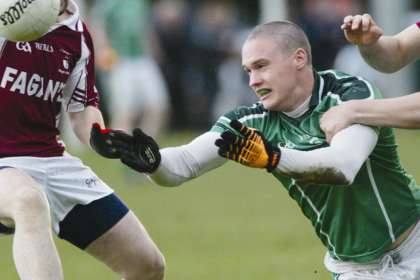 Donaghmore Ashbourne's David Morgan
Donaghmore Ashbourne 3-13
Skryne 1-08
Having lost the opening round game with a poor performance to St. Patrick's, Donaghmore Ashbourne made the short trip to Ratoath knowing another defeat would make qualification for the group stages of the championship virtually impossible. Both Donaghmore Ashbourne and Skryne had the added pressure of a delay start as the teams already on the field for the 5.30 start had to return to the dressing room and wait an additional half hour for a referee to turn up. A much different Donaghmore Ashbourne side both in terms of personnel and attitude produced their first win of the campaign with a 3-13 to 1-08 win over Skryne. In summary there was little between the teams for the majority of the game but a strong finish by Donaghmore Ashbourne gave them a deserved victory albeit with a flattering score line.
The Tara men played with the aid of a breeze in the first half and opened the scoring on 2 minutes with a point from play. Andrew Tormey brought the sides level with a point from 30 meters out on 6 minutes. Ciaran Beirne gave Donaghmore Ashbourne the lead within 60 seconds of Tormey's score with a well taken point from the left hand side line.
Donaghmore Ashbourne worked very hard throughout the first half to keep the Skryne scoreboard down and only conceded four further scores, two from play, one 45 and one free. Skryne could have had more on the scoreboard but registered 7 wides. At the other end Donaghmore Ashbourne got a great lift when Andrew Tormey fisted a high long range ball to the net. Ciaran Ellis had a chance for a second goal as he broke through the Skryne defence but he opted to take his point. David Morgan also scored a good solo point as he disposed the corner back on the 40 and advance to slot over from the right hand side. Ciaran Beirne got his second of the half when he finished off a good team move with a long range point.
Although playing against the breeze Skryne had the better of the opening period of the second half and the game looked on a knife edge. The sides traded scores early in the half with Ciaran Ellis extending Donaghmore Ashbourne's lead to 4 points with a point on 33 minutes and Skryne replying with a pointed free a minute later. Another Skryne free on 36 minutes dropped short and when Donaghmore Ashbourne defence failed to clear inside the small square the ball was forced over the line from close range to bring the sides level. The Tara men could have taken the lead on 37 minutes but a goal attempt hit the crossbar and bounced on the line back into Jack Hanigan's hands and they also registered two wides in the following two consecutive minutes.
The sides traded scores late in the third quarter with Ciaran Beirne regaining the lead for Donaghmore Ashbourne with a well taken score on 40 minutes and Skryne replying with a free on 44 minutes. With the game in the melting point it looked as if the sides were going to end in a stalemate however a late rally by Donaghmore Ashbourne saw them get over the line with a victory.
Substitute John Broderick fisted a point on 53 minutes and Beirne sent over another well taken point on 55 minutes to extend the lead to 2 points. A goal by Andrew Tormey on 57 minutes put a bit of light between the teams and although Skryne tried to reply Donaghmore finished with a number of other scores. A quick Andrew Tormey Free released David Morgan and he pointed from the left hand side on 58 minutes. Points from substitute Mattie Devine and Eoin Riordan on 59 and 60 minutes allowed the Donaghmore Ashbourne support to relax a little. Although Skryne did reply with a point in injury time a quick attack from the resulting kick out released Andrew Tormey and he made it a hattrick of goals as he fired to the back of the net. An Eoin Reilly point with the last kick of the game finised off a great 10 minutes spell for Donaghmore Ashbourne as they got their first championship win for 2013.
Overall it was a much improved performance by the team with notable contributions from Ciaran Beirne, Andrew Tormey with 3-01 and David Morgan.
Donaghmore Ashbourne: J. Hanigan; J.P. Casserly, B. Menton E. Riordan (0-1); C. Carton, C. Mc Gill, S. Curran; R. O'Connor, E. Reilly (0-1); C. Ellis (0-2), A. Tormey (3-01), S. Melia; C. Beirne (0-4), T. Morgan, D. Morgan (0-2), Subs: P. Gilligan for Curran, M. Devine (0-1) for T. Morgan, E. Callaghan for O'Connor, J. Broderick (0-1) for Ellis
****
Skryne Report:
Donamore/Ashbourne 3-13
Skryne 1-8
Needing a win after their surprise defeat last week to St. Patrick's Donaghmore took the points in style in this Senior Football Championship match in Ratoath on Saturday evening.
The match, which started late as no referee turned up, seemed to be heading for a draw with 55 minutes gone and the sides on 1- 7 each when things went badly wrong for the Skryne men. A point put Don/Ash ahead, then with Skryne missing a chance to equalise the ball was cleared out of defence and with a brilliant sweeping movement the ball was swiftly moved downfield before being blasted to the back of the net with three minutes normal time left to play. Taking inspiration from this the East Meath side posted a further three points without reply. Four minutes additional time was played when Mark Battersby replied with a point for Skryne. However from the kick-out once more the crowd were treated to another sweeping movement the length of the pitch which resulted in another goal.
For much of this match Skryne were playing catch-up. They only led briefly at the start of the match when Kevin Reilly won a great ball out on the left wing and beat a number of backs before slotting over with two minutes gone. A number of Skryne players had chances to push further ahead however the game was level at 0-1 apiece after six minutes. A minute later Don/Ash were ahead for the first time in the match and were never led after that. With twenty minutes on the clock they posted their first goal. Conor O'Brien got a point back for Skryne immediately and Paddy O'Rourke further reduced the arrears a minute later. A point for Don/Ash made the score 1 - 3 to 0 - 3, but points from Paddy Fox and Paddy O'Rourke left only the minimum in it. However two further points for Don/Ash saw them go in at half time a goal up at 1 - 5 to 0 - 5.
Don/Ash increased this lead on 33 minutes but Ian Davis pulled one back for Skryne. Then on 36 minutes Kevin Mulvany drove home a loose ball to tie up the scores at 1 - 6 each. Over the next twenty minutes both sides scored a point each but Skryne had most of the available chances including one from Kevin Mulvany which struck the crossbar. However it was not to be their day and Donaghmore picked up the two points they needed to stay in this year's championship.
Skryne: F. O' Rourke, N Lehehan, M. Mulvany, D. Brennan, P. Fox(1) , C. Lenehan, R. McCabe, D McGoldrick, H. Rooney, P.O'Rourke (2), M Battersby(1), I. Davis (1), C. O'Brien(1) , K. Mulvany (1-0), K. Reilly (2)
Most Read Stories