IFC: Ballinlough off to a winning start
April 21, 2013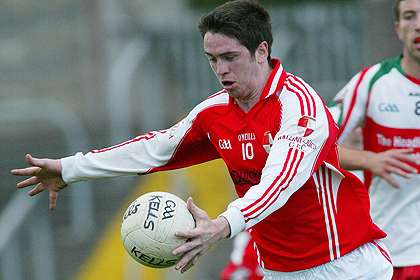 Ballinlough's Peadar Byrne
Goals proved to be the difference as Ballinlough got their Intermediate Championship campaign off to a promising start with an impressive win against Ballivor in Kells.
Ballinlough: 3-09
Ballivor: 0-14
There was a sombre start to this encounter, with a minutes silence in respect of Ballinlough's promising young star, Ricky McDermott, who recently passed away.
After the throw in, Ballinlough got off to the perfect start with Colm Mallen finding the back off the net after good work by Peadar Byrne. This was the catalyst of a dominant period by the Reds, in which Ballivor struggled to get the ball out of their own half. Ballinloughs lead was increased by impressive points from Gary Reilly and Tommy McCullen. It was the twelfth minute before Ballivor got themselves on the scoreboard, thanks to a free from Paddy Kinneally, who proved to be their main scoring threat for the remainder of the half, splitting the posts on another two occasions before the change of ends. However Byrne kept the scoreboard ticking in Ballinloughs favour with four important points to leave his team leading 1-07 to 0-04 at the break.
The second half was a fiery affair with some impressive play by both teams. Cian Mallen opened the half with a point for the Lough, before Tommy McCullen bravely put the ball into the back of the net under a heavy challenge from the Ballivor goalkeeper.
Ballivor weren't prepared to give up though, and aided by the strong breeze, went on to kick the next six points of the contest, leaving just four points between the sides. Ballinlough withstood this onslaught, and got back on track with a well taken goal from Kevin Mallen, after great work by his older brother Colm. This ended any hope of a comeback for Ballivor, and the Lough finished 4 point winners.
Ballinlough will go into their next championship encounter with Ratoath with heads held high. Their best performances on the day came from Peadar Byrne, Colm Mallen and Tommy McCullen.
Ballinlough: K. McGuinness, B. Smith, P. Muldoon, R. Farrell, R. McGuinness, K. Devine, M. Geraghty, G. Reilly, Cian Mallen, T. McCullen, P. Byrne, M. McCullen, S. Geraghty, K. Mallen, Colm Mallen. Subs: J. Reilly for T. McCullen (BS)
Most Read Stories