Kildalkey Hurling and Camogie Club Lotto Now Online
May 22, 2012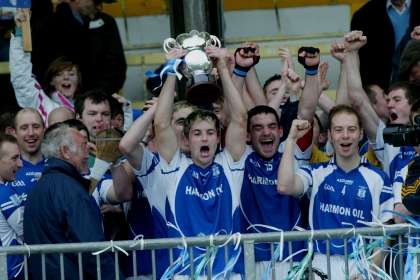 Kildalkey captain Mairtin Doran raises the Jubilee Cup for the third year in a row at Pairc Tailteann.
TO VIEW OR PURCHASE A SELECTION OF PHOTOGRAPHS FOR THIS GAME CLICK HERE
Kildalkey are now using the Internet to sell more of their club lotto tickets and also communicate with their members with the newsletter system provided by locallotto.ie myclubfinances.
Michael Bird takes up the story - "Every club in Ireland is finding it harder in this recession but I saw a recent presentation that showed me we have to be working smarter and using the Internet to help us. We cannot rely on doing the same old things and we must move with the times to reach our supporters be they in Kildalkey, Kildare or even Kiev.
"Going online with locallotto.ie/myclubfiannces.com allows us to extend the reach of the club lotto to all over the world. It is so easy - like buying a Ryanair ticket - Online is like our new pub in the village. We realise we have to work the system and publicise our online section around the village with signs, posters, the parish and on twitter, facebook but we are confident with some work we will get back in touch with people all over the parish and the world and make it easier to help the club in 2012 and the years ahead. Each week we will email club members the club news and lotto number through a newsletter system also".
Kildalkey lotto online
We aim to raise over €5,000 euro - Our 6 week target is 30 new people playing lotto who would not normally be able to play. This will be significant income for the club in these tough times given that the average ticket bought online is €45 Already we have a person in London and and another in Australia Online. This would not have been possible without the internet."
Most Read Stories