Football Championship draws
February 13, 2012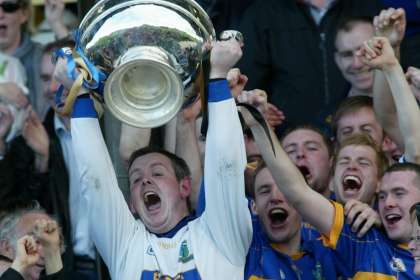 Summerhill captain Tony McDonnell raises the 2011 Keegan Cup. The champions start their defence with a clash against 2011 Div 1 league finalists St Pats.
hoganstand.com have great pleasure in sponsoring the Meath Senior Football Championship and the 2012 draw has thrown up some interesting battles.
Championship holders Summerhill will face last year's League Division one finalists St. Patrick's in the first round. Also included in a tough grouping are Dunshaughlin, Skyrne, Simonstown and Dunboyne.
Consisting of 17 teams, there will be no relegation in 2012, with the aim being to have six teams in each group in 2014. Throw In for the championship is provisionally down for 13/14/15 April next.
hoganstand.com SFC
Group A
Nobber v Duleek/Bellewstown
St. Patricks V Summerhill
Donaghmore/Ashbourne v Moynalvey
Group B
Skyrne v Simonstown Gaels
Wolfe Tones v Walterstown
St. Peter's Dunboyne v Dunshaughlin
Group C
Oldcastle v Navan O'Mahonys
Blackhall Gaels v Seneschalstown
Rathkenny bye
Meade Potatoes IFC
Group A
Gaeil Colmcille v Trim
Longwood v Ballinlough
St. Colmcilles bye
Group B
Dunderry v St. Michaels
Syddan v Na Fianna
Clann na Gael bye
Group C
Carnaross v Ballivor
Castletown v Ballinabrackey
St. Ultans bye
Teach na Teamhrach JFC
Group A
Clonard v St. Brigids
Moylagh v Dunsany
Curraha v Cortown
Group B
Duleek/Bellewstown v Summerhill
Slane v Kilmainhamwood
Trim v Kilmainham
Group C
Bective v Skryne
Drumbaragh v Navan O'Mahonys
Ratoath v Drumconrath
Group D
Kilbride v Meath Hill
St. Peter's Dunboyne v Simonstown Gaels
Donaghmore/Ashbourne bye
Seamus Connolly Catering JFC 'B'
Group A
Dunshaughlin v Gaeil Colmcille
Donaghmore/Ashbourne v St. Patricks
Moynalvey v St. Marys
Group B
St. Vincents v Walterstown
Dunderry v St. Colmcilles
Ratoath bye
Group C
Boardsmill v Wolfe Tones
St. Pauls v Seneschalstown
Moynalvey bye
Ideal Bathrooms JFC C
Group A
Oldcastle v Cortown
Castletown v St. Ultans
Group B
Summerhill v Rathkenny
Ballivor v Blackhall Gaels
Group C
Duleek/Bellewstown v St. Michaels
Dunsany v Simonstown Gaels
Group D
Nobber v Navan O'Mahonys
Na Fianna v Syddan
Peter Fox Plumbing JFC D
Group A
Seneschalstown v Longwaood
Drumbaragh v Donaghmore/Ashbourne
Kilmainham v Clonard
Group B
Kilmainhamwood v Ballinabrackey
Moylagh v Ratoath
St. Marys v Dunsany
Clann na nGael a bye
Group C
Dunshaughlin Ballinlough
Gaeil Colmcille v Dunderry
Meath Hill v Wolfe Tones
Group D
St. Vincents v Moynalvey
Bective v Moynalty
Drumconrath v Carnaross
Most Read Stories