IFC: St. Michaels relegate Cortown
September 12, 2011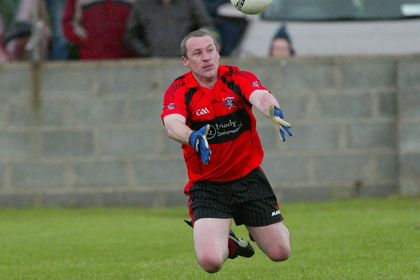 St Michael's Daithi Reilly
Intermediate Championship, Relegation Play-off.
St. Michaels 0-14
Cortown 1-5.
Played in Simonstown
Half time St. Michaels 0-4, Cortown 1-3.
The wind was gusting, the tackles were bone shaking and there were mistakes galore, all the ingredients of a third and final relegation playoff, but it was a gutsy performance from St. Michaels that sees them retain their intermediate status with this deserved victory over Cortown under lights in Simonstown on Friday evening last.
Both sides seemed to suffer from nerves in the first period with only three scores registered between them after 18 minutes of play and it was Cortown who held the advantage at this stage leading 1-1 to 0-1 after David Lynch had opened the scoring for St. Michaels with a pointed free after 7 minutes. Daithi Regan, David Lynch and Felim O'Reilly added further points for St. Michaels but it was Cortown who held a 1-3 to 0-4 interval lead but they would have it all to do in the second half playing into a strong wind and having had a man sent off in the latter stages of the first half.
The introduction of Sam Briody gave St. Michaels more options in front of goal as they stepped up a gear in the second half and with Daithi Regan 0-4, Ciaran Lynch 0-2. Kevin Cassidy, Ronan Farrell, Felim O'Reilly & Brendan Ryan 0-1 each all getting on the scoreboard Cortown could find no answers and no way through the tight St. Michaels defence where Philip Rogers, Daithi Reilly, Mark Stafford & Brendan Ryan excelled and held their opponents scoreless for the final 23 minutes of the match.
ST. MICHAELS: Paul McCormack, Mark Stafford, Philip Rogers, Daithi Reilly, Ronan Cassidy, Brendan Ryan 0-1, Robert Briody, John Farrell, Felim O'Reilly 0-2, David Lynch 0-2, Ciaran Lynch 0-2, Kevin Cassidy 0-1, Daithi Regan 0-5, Ronan Farrell 0-1, Ben Farrell. SUBS: Sam Briody for Ben Farrell ( injured ), Michael Rogers for Ronan Cassidy ( blood ) , Sean Gaffney for Ronan Farrell, Michael Rogers for Philip Rogers, Darren O'Connell for Ciaran Lynch.
From Pascal Reilly St. Michaels PRO
Most Read Stories