IFC: Na Fianna fall to Dunderry
August 22, 2011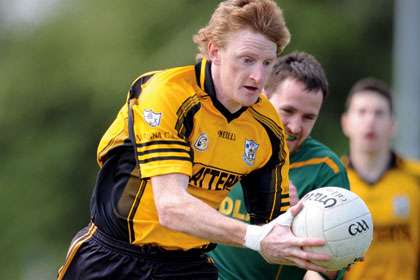 Na Fianna's Ollie Lewis
Dunderry 2-9
Na Fianna 0-12
Na Fianna Intermediate footballers exited the championship at the quarter-final stage follow a three point defeat to a very determined and experienced Dunderry team in Kildalkey on Saturday evening.
A huge crowd were treated to a reasonable game which contains some passages of good football, well taken scores and some very tenacious defending by both teams however the Dunderry team showed the greater hunger and experience over the hour and finished worthy winners. Na Fianna will look back on this campaign having come through the group stage unbeaten but the lack of experience in the knockout stages probably showed up against a Dunderry side coached by former Meath player Barry Callaghan and could call on the services of Meath full back Darren Fay who lined out at full back.
Na Fianna started brightly with a point from play by Michael Foley after 3 minutes.Dunderry replied with 2 close range pointed frees. The first Dunderry goal arrived after 13 minutes when a free into the Na Fianna penalty area was not cleared and in the confusion was punched to the net by a Dunderry forward despite the best efforts of Christy Cosgrave.
This left the score Dunderry 1-2 to Na Fianna 0-1 after 15 minutes. Na Fianna dominated the remainder of the half adding on 0-7pts with scores from Conor Downey, Michael Foley(2), Ollie Lewis(2), Harry Silke and a huge free kick from 50m by Daniel Queeney. Dunderry only reply was another close in pointed free. Half time score Na Fianna 0-8 Dunderry 1-3.
Na Fianna started the second half with Ailbhe Mahon partnering Ollie Lewis at midfield, Sean Griffin at wing forward and Harrison Silke switched to full forward in a direct switch with Jamie Queeney who seemed to pick up an injury early in the game and restricted his contribution. Dunderry started the second half in a whirlwind fashion with a TJ Garry goal after 2 minutes and by the three quarter stage had added 4pts to lead 2-6 to 0-8.Na Fianna had failed to scored in the second period until Daniel Queeney pointed a free after 16 minutes. However this was as close at the south Meath team were going to get as both teams posted 3 pts each in the final quarter. The "goal " needed by Na Fianna to haul them back into this match never came although a breaking ball volleyed soccer style by Silke with 4 minutes remaining struck the bottom of the post and spun across the goal only to go wide on the opposite side.
This was as close as they got as the Dunderry team closed up shop and defended stoutly for the remainder of this game including 2 minutes of injury time to advance to IFC semifinals for the 3 year in a row.
Na Fianna - David McCormack; Davy Lyons: Christy Cosgrave: Daniel Glesson; John Baldwin; Tommy Cosgrave; Diarmuid Bailey (0-1): Ollie Lewis (0-2); Brian Queeney; Dean Henricks; Michael Foley (0-4); Conor Downey (0-1); Daniel Queeney (0-3); Jamie Queeney; Harison Silke (0-1).Subs ,Sean Griffin for Dean Henricks (halftime); Ailbhe Mahon for Brian Queeney (35 mins), Dalton McDonagh for Jamie Queeney (50 mins) and David Kirby for Davy Lyons (55mins).
Most Read Stories