IFC: Na Fianna edge Bracks to top group
August 06, 2011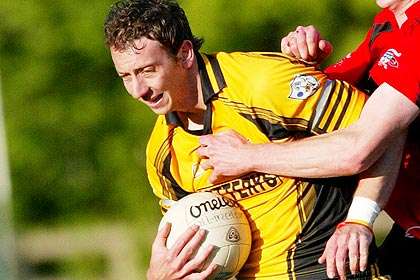 Na Fianna's Jamie Queeney
Na Fianna 1-6
Ballinabrackey 0-8
Na Fianna and Ballinabrackey went head to head to see who would get the second Group C spot for the Intermediate Football quarter finals at an excellently prepared Longwood pitch on Saturday evening.
Na Fianna had an advantage going into the game in that 'The Bracks' needed to win by five points in order to secure the spot. Given the significance of the result this was a tough game with no quarter asked or given. While Na Fianna missed a goal chance from their first passage of play they did open the scoring in the third minute with a Jamie Queeney point. Damien Carroll leveled matters on ten minutes. In a half where both sets of backs were on top, Queeney and Carroll traded further points from frees before Michael Foley finished off the half with a well taken Na Fianna point. Na Fianna suffered the set back of loosing goalkeeper Shane Geraghty through injury mid way through the half but was he ably replaced by David McCormack. Half time score Na Fianna 0-4 to Ballinabrackey 0-3.
'The Bracks' stated the second half in fine style forcing the Na Fianna defense to concede three frees which Damien Carroll converted. However mid way through the half 'the Bracks' suffered a blow when their centre half back received a second yellow card allowing Na Fianna the space to come back into the game through points from Conor Downey and Daniel Queeney. Ballinabrackey continued to work hard to secure the five point lead they required and two further Carroll points put them within a score of achieving this. However a final effort from the Na Fianna lads saw Harrison Silke get a goal on the stroke of full time to secure victory. Apart from those already mentioned others to play well were Tommy and Christy Cosgrove, Daniel Gleeson, Johnny Baldwin, Brian Queeney and Conor Downey.
Na Fianna: Shane Geraghty, Davy Lyons, Christy Cosgrave, Daniel Gleeson, John Baldwin, Tommy Cosgrove, Dean Henrick; Ollie Lewis; Brian Queeney; Albhie Mahon;; Michael Foley (0-1); Conor Downey (0-1); Daniel Queeney (0-1), Jamie Queeney (0-3); Harrison Silke (1-0). Subs David McCormack for Shane Geraghty.
Most Read Stories