IFC: Syddan too strong for St. Michaels
June 13, 2011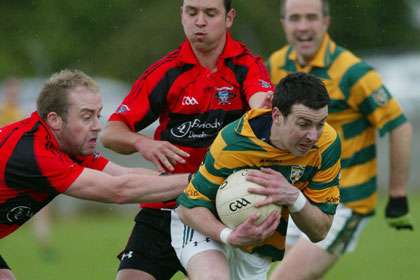 Syddan's Pauric Young gets away from St Michael's Ben Farrell and Ciaran Lynch during the Meath IFC game at Drumconrath.
Intermediate Championship, Group B.
St. Michaels 0-8
Syddan 1-10
Played in Drumconrath
St. Michaels saw their last slim chance of reaching the business end of the intermediate championship blown away by Syddan in Drumconrath on Friday evening last when they recorded their third defeat in as many games.
Syddan led 0-3 to 0-2 after ten minutes after Points from Gary and Patrick Farrelly and Brian Dillon. A Brian Dillon Goal midway through the First Half extended Syddan's lead. Three more Brian Dillon Points gave Syddan a 1-8 to 0-5 lead at the break.
Ciaran Lynch cancelled out Syddan's opening point with a point on 4 minutes, but it was Syddan who surged ahead and had 4 points on the board before Daithi Regan registered his first point from a free and St. Michaels second on 10 minutes. Syddan's goal came after 17 minutes of play to put them 1-5 to 0-2 ahead. Daithi Regan added 3 more points (2 from frees) but Syddan replied with 3 of their own to leave them 1-8 to 0-5 ahead at the break.
Although St. Michaels practically owned the ball in the second half all they could muster from their efforts was 3 points from Daithi Regan 0-2 and Ben Farrell 0-1. Cormac Rowe scored Syddan's only two points in the second half and was unlucky to see an effort on goal well saved in the dying stages of the game.
John Barry O'Reilly, Sean Gaffney, Daithi Reilly & Ciaran Lynch showed up well for St. Michaels who must now battle it out now in the relegation zone.
Best for the winners were Brian Dillon, Cormac Rowe and Luke Halpenny.
Syddan: D.Sullivan, P.Rafferty, P.Young, E.Maguire, B.Bashford, C.Rowe (0-2), L.Halpenny, P.Duff, S. Dillon (0-1), J.Farrelly, S.Malone, G.Farrelly (0-2), B.Dillon (1-4), P.Farrelly (0-1) I.Curran.
ST. MICHAELS: Paul McCormack, James Farrell, Sean Gaffney, Daithi Reilly, Philip Rogers, John Barry O'Reilly, Robbie Briody, Brendan Ryan, John Farrell, Ronan Cassidy, Ciaran Lynch ( 0-1 ), David Lynch, Daithi Regan ( 0-6 ), Ben Farrell ( 0-1 ) Kevin Cassidy. SUBS: Michael Rogers for James Farrell, Sam Briody for Brendan Ryan.
Pascal Reilly St. Michaels PRO
Most Read Stories