IFC: Carnaross rue missed chances
June 12, 2011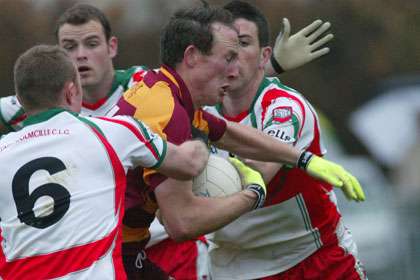 Dermot McGee Carnaross
Carnaross 1-8
Dunderry 0-14
A failure to convert their chances resulted in Carnaross exiting the Championship after a tough battle with Dunderry in Pairc Tailteann.
Dunderry almost opened the scoring in the first minute with a goal but Kevin Dowd's effort was kept out twice following two good blocks from Cillian Comaskey and Patrick Nugent. They did take the lead with a free and doubled their advantage soon afterwards through Steven Coogan and Keith Callaghan. Brian Comaskey scored the first point for Carnaross with a fine effort from play but Dunderry replied with another point from Paddy Kennelly. Carnaross managed to gain plenty of possession and points from Dermot McGee, Damian Smith and John L McGee put them in front after fifteen minutes. They should have been further in front but for some wayward shooting while they were on top. Two points for Dunderry put them back in front before John L McGee levelled matters with a free. Dunderry added two more points from the impressive Coogan and Callaghan in injury time to lead 0-7 to 0-5 at half-time.
Dunderry started the second-half brightly with a point from play from Coogan. Their lead could have been doubled but for a save by Cillian Comaskey from a one on one. Dunderry converted the resulting '45. Carnaross then had a goal chance but it was the Dunderry keepers turn to pull off a good save. Dermot McGee scored his second point of the game but Dunderry replied strongly with two more points to take a five point lead. With six minutes remaining John L McGee gave Carnaross hope with a goal following a long pass in from his brother Dermot. However, Carnaross could not take advantage and it was Dunderry who closed the game out with three unanswered point in the closing stages with Darren Fay and Ivan McCormack on the score sheet. Injury time points from John L McGee and Patrick Nugent reduced the margin but it was too late for Carnaross who were left to rue the missed chances after kicking fourteen wides during the game.
Best for the winners were Steven Coogan, Colm Harte & Alan Garry.
Dunderry - David Jennings; David McCormack, Darren Callaghan, Kevin Slattery; Colm Harte, Evan Stephens, Alan Garry; David Callaghan, Darren Fay (0-1); Andy Coogan, Kevin Dowd, Damien Clarke; Steven Coogan (0-8 [2 frees]), Paddy Kennelly (0-2), Keith Callaghan (0-2). Subs - Bob Doherty for Keith Callaghan, Ivan McCormack (0-1) for Dowd, Peader Callaghan for Slattery, JP Kennelly for Paddy Kennelly, Trevor Conety for Andy Coogan
Carnaross: Cillian Comaskey; John Plunkett, Thomas Nugent, Patrick Nugent (0-1); Eamonn Comaskey, Michael Brogan, Ciaran McDonnell; Dermot McGee (0-2), Brian Comaskey (0-1); Niall McDonnell, John L McGee (1-3), Damian Smith (0-1); Peter Mullan, Ollie Murphy, Declan Reilly; Subs: Shane Casserly for Declan Reilly;
Most Read Stories