SFC: Seneschalstown hold off Rathkenny
May 02, 2011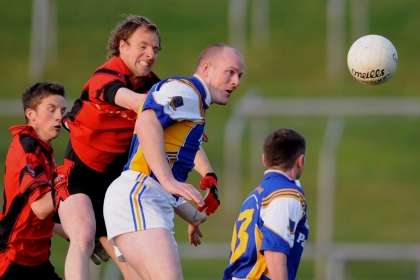 Seneschalstown's Joe Sheridan is under pressure to gain possession as Rathkenny's Damien McBride moves in during the the Meath SFC at Pairc Tailteann.
Seneschalstown 0-10
Rathkenny 1-05
Seneschalstown earned their first points of the 2011 Senior Football Championship as they held off a late rally to overcome Rathkenny in Pairc Tailteann on Saturday evening.
Before kick off both Seneschalstown and Rathkenny made changes to there original line outs seeing John Donegan move to full forward for Rathkenny and Joe Sheridan move to midfield while Brian Sheridan moved to the full forward position for the Yellow Furze side. Seneschalstown opened the scoring in the opening seconds with a well taken point from Brian Sheridan. Rathkenny responded well with 2 points, a 45 and free from Thomas Martin. A breaking ball collected in mid-field by Seneschalstown's centre half back Gary Conlon fisted the ball to Brian Sheridan who made a great pass to Peter Waters who slotted the ball over the bar leaving the sides level on the 11th minute. Rathkenny were soon reduced to 14 men when corner forward Owen Elliott seen red for a tackle on Seneschalstown's Brian Sheridan. Seneschalstown added to there tally with 2 points from Shane Clarke (1 free) but Rathkenny soon cancelled out these points leaving the sides level going into the break.
Seneschasltown opened the second half with a goal chance which saw Brian Sheridan one to one with the Rathkenny goalie John Martin but Martin made a great save leaving Rathkenny breathing a sigh of relief. Rathkenny went a point in front on the 38th minute of the second half with a free from Thomas Martin. A good passage of play from Seneschalstown seen points from Shane Clarke, Stephen Finnegan and Brian Sheridan all from play and a free from Joe Sheridan, which left them 3 points in front on the 48th minute of the match. A further free from Brian Sheridan came on the 52nd minute before Rathkenny, who had not scored since the 38th minute of the second half, became dominatebut were held off by great defending and clearing from the Seneschalstown back line. Rathkenny eventually found a gap in the Seneschalstown defence when half back Donal Keoghan dodged though and fired the ball into the back of the net leaving Seneschalstown only one point up going into the last minute of the match. Corner forward Peter Waters answered this with a well taking point from play for Seneschalstown in the last minute of the match.
Seneschasltown: D. Lyons, C. Gleeson, C. Noonan, G. Sheridan, P. Carey, G. Conlon, J. Byrne, R. Ruddy, B. Sheridan (0-03, 1 free), A. Gleeson, C. Macken, S. Finnegan (0-01), S. Clarke (0-03, 1 free), J. Sheridan (0-01), P. Waters (0-02).Subs: B. Clarke for A. Gleeson.
Rathkenny: J. Martin, M. Macken, T. Mc Keever, D. Mc Bride, D. Keoghan (1-0), J. Macken, R. Gore, J. Donegan, B. Meade, D. Barron, I. Lenehan, D. Curtis, O. Elliott, T. Martin (0-05, 3 frees, 1, 45), S. Mc Cabe. Subs: B. Carolan for S. Mc Cabe, C. Gore for M. Macken, B. Lenehan for Barron.
Most Read Stories