IFC: Carnaross and Syddan share the spoils
April 18, 2011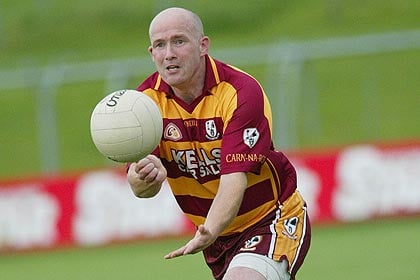 Carnaross star Ollie Murphy
Carnaross 2-10
Syddan 2-10
Carnaross and Syddan had to share the points following an exciting opening game in the Intermediate Championship played in perfect conditions in Moynalty.
Carnaross hit the first point right from the throw in with John L McGee finishing off the move from close range. Syddan then took the lead with two quick points in a row. Declan Reilly put Carnaross back on level terms following a fantastic point from a tight angle. Both sides traded a point each with Niall McDonnell hitting the target for Carnaross. Syddan then enjoyed a purple patch and went on to take a three point lead. After twenty minutes they added the game's opening goal to put them six in front. John L McGee got a point from play for Carnaross before Declan Reilly brought Carnaross back into the game with a bizarre goal. His initial effort to fist the ball to the net failed but as he fell head first to the ground he put the ball in with his heel. Syddan ended the first half scoring with a free to lead 1-7 to 0-4 at the break.
After the restart Carnaross hit the ground running and John L McGee set up Niall McDonnell to finish low to the net to leave the sides level. Two more points from play from Ollie Murphy and McDonnell put Carnaross in front once again. Syddan reduced the margin with another point. The game became very tight midway through the half with the only score coming from John L McGee. With ten minutes remaining a Syddan free left one point in it but Carnaross raised the tempo once again with McGee adding two more points going into the closing stages. The game was far from over however and Syddan broke through to score an equalising goal. Brian Comaskey put Carnaross back in front but once again Syddan responded to leave the teams level.
Carnaross: Cillian Comaskey; Michael Brogan, Thomas Nugent, Patrick Nugent; Eamonn Comaskey, Ollie Murphy (0-1), Peter Farrelly; Charles Brogan, Brian Comaskey (0-1); John Plunkett, John L McGee (0-5), Damian Smith; Niall McDonnell (1-2), Peter Mullan, Declan Reilly (1-1); Subs: Stein Carpenter for Peter Mullan; Peter Nugent for John Plunkett; Cian Gillic for Stein Carpenter; Ciaran McDonnell for Damian Smith; Peter Mullan for Ollie Murphy.
Most Read Stories