IFC: Clann na nGael squeeze past Castletown
April 17, 2011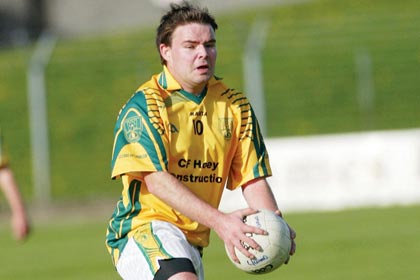 Castletown's Shane Farrelly
Clann na nGael O-12
Castletown 1-8
Clann na nGael got their intermediate campaign off to a good start by winning by the narrowest margin in a tight contest played in Kilmainham on Sunday evening.
The Athboy side lead a by two points at half time 0-6 to 0-4 but both sides were guilty of some poor shooting.
At the start of the second half Clann na nGael dominated for a long period but only managed one point from a series of placed balls. Castletown began to get on top then and won a penalty which was converted to put them two points up with 10 mins left. They followed this with a well worked score from play to go three up with eight minutes left, The turning point was then the switching of Meath player Shane McAnarney from full back to centre back which allowed Clann na nGael to fire over five unanswered points in a hectic finish.
Castletown however were not finished and replied on full time to leave just a point between the sides.3 mins of injury time followed durning which a resolute Clann na nGael defence held firm to post their first win in this years championship.
Castletown - J.Ginnitty 2. J.Metry 3. G.Farrelly 4.J.Carry 5.S.Duffy 6.S.Farrelly 7.B.Smith 8.M.Hickey 9.R.Cribbin 10.K.Ross 11.T.Smith 12.J.Finnerty 13. D.Cribbin 14. K.Smith 15.F.Hoey. Subs 26.D.Finney for J.Finnerty 22. D.Ginnitty forR.Cribbin 17. A.Smyth for B.Smith 21 C.Morris for K.Ross
Scorers - S.Farrelly 0-2, T.Smith 1-1, D.Cribbin 0-2, K.Smith 0-2, D.Finney 0-1,
Most Read Stories