SFC: Dunshaughlin comeback downs Seneschalstown
April 16, 2011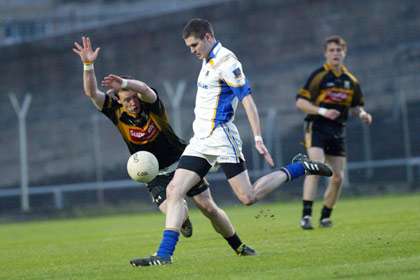 Dunshaughlin's Mick Ahern moves in to block Seneschalstown's Stephen Finnegan's shot on goals during the Meath SFC opening round at Pairc Tailteann.
Dunshaughlin 1-10
Seneschalstown 0-09
After last years last minute bitterly disappointing defeat to Skryne in the Senior Football Final, Seneschalstown were looking for a good start to there 2011 campaign. This was not to be as Dunshaughlin overcame a five point deficit at half time to defeat the Yellow Furze side in Pairc Tailteann on Friday night.
Seneschalstown started off well with points from Bryan Clarke and Damien Sheridan within the opening two minutes of kick off. The Yellow Furze side then had a goal chance when a mistake in the Dunshaughlin defence seen Clarke through but Robert Ruddy was unable to control a hand pass from Clarke which left Dunshaughlin breathing a sigh of relief. Dunshaughlin opened up there scoring on the 7th minute with a free from Trevor Dowd which was their only score of the first half. The Black and Amber side made numerous basic errors in the first half missing a number points but good defending by Caoimhin King and goalie Ronan Gogan meant Seneschalstown missed a couple of goal chances also. Seneschalstown increased their tally with well taking points from Stephen Finnegan and Brian Sheridan ( 1 free) before Clarke slotted over another point from play before the break of half time leaving the score at 0-6 to 0-1 in Seneschalstown's favor.
Dunshaughlin opened the second half well with points from Cathal Dwyer and Dowd before an excellent point from Finnegan left Seneschalstown with a four point lead. The turning point of the game came on 44th minute when a clever pass from Dowd saw Conor Devereux find the net against the run of play which left the teams level. Dunshaughlin seemed to find form with excellent points from play from substitute Michael Mc Hale and Ray Maloney on the 45th and 46th minute respectively. Seneschalstown were deflated at this point with injuries to key players Bryan Clarke and Damien Sheridan, while Stephen Sheridan saw red to reduce them to 14 men. Dunshaughlin increased there tally of scores with a free from Dowd and a point from O'Dwyer which gave them a four point lead. Seneschalstown put pressure on the Dunshaughlin back line with high balls into the forward line but Dunshaughlin were able to deal well with this with Gogan clearing on a couple of occasions. A further free from Dowd and point from Maloney cancelled out two points from Seneschalstown in the closing minutes of the game.
Dunshaughlin: R. Gogan, A. Doyle, C. King, M. Ahern, F. Toolan, T. Johnson, D. Kealy, J. Crimmins, R. Maloney (0-03), C. Staunton, T. Dowd (0-04, 3 frees), T. O'Dushlaine, C. O'Dwyer (0-02), N. Murphy, C. Devereux (1-0). Subs: M. Reilly for Murphy, M. Mc Hale(0-01) for Crimmins, R. Kealy for Reilly, P. Mc Hale for Johnson.
Seneschasltown: D. Lyons, G. Sheridan, C. Noonan, S. Sheridan, P. Carey, G. Conlon, J. Byrne, R. Ruddy (0-01), D. Sheridan (0-01), B. Clarke (0-02), B. Sheridan (0-02, 1 free), S. Finnegan (0-02), C. Macken, J. Sheridan, P. Waters.Subs: S. Clarke for Clarke, A. Gleeson (0-01) for D. Sheridan.
Most Read Stories