SFC: Ultan's fall to Rathkenny by a point
August 09, 2010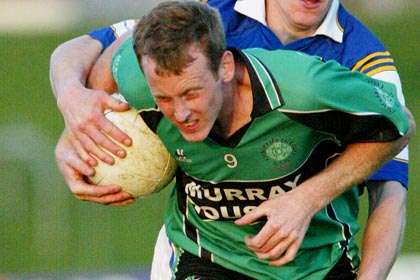 St Ultan's Kevin Galligan
Rathkenny 0-9
St Ultan's 0-8
St. Ultan's brave effort to garner their first brace of points in this year's SFC fell agonizingly short at Meath Hill on Sunday.
Rathkenny had already qualified for the knockout stages while Ultan's were bottom of the table and missing a number of players due to injuries and holidays. The Bohermeen/Martry men suffered a further blow before the start of the game when top marks man Cian Rennicks was unable to start due to a tummy bug.
In a low scoring first half exchanges were even enough with only a single point separating the sides at the break. Ultan's levelled on the restart but Rathkenny hit three points to take a 0-8 to 0-5 lead.
Ultan;s then fought back with three scores of their own to level the game in injury time only for Rathkenny to grab a late, late winner.
Best for St. Ultan's were Ciaran Lynch, Jason Bennett, Kevin Galligan and Darren Costello.
St Ultan's - Robbie Daly, Barry Brady, Ciaran Lynch, Jason Bennett, Georoid Rennicks, Alan Martin, Alan Rogers, Richie Lynagh, Kevin Galligan 0-5, Shane Mulroe, Tomas Coyne, Darren Costello, Shane Rennicks, Paul Murray 0-1, Conor Smyth. Sub - Cian Rennicks 0-2 for A Rogers.
Most Read Stories