SFC: Trim recovery leaves Simonstown reeling
August 09, 2010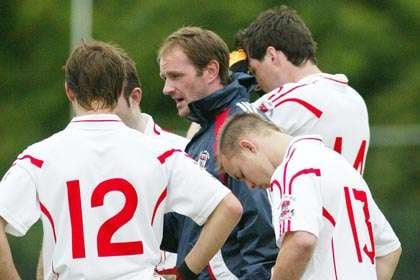 Trim manager Darren Fay has some words of advice for his players
Trim 1-7
Simostown 0-9
Trim supporters left Dunderry on Sunday afternoon as happy campers after their team pulled off a miraculous injury time victory over Simonstown Gaels.
Before the game Trim were bottom of the group with one point from four games, Simonstown and St Pats were on three points. It was a must win situation for Trim, the alternative, a relegation playoff. As it panned out Simonstown just required a draw to be safe but the Trim lads changed the script.
After twenty one minutes of the first half the teams were level at three points all. Both sets of forwards were "off the mark" early on with Trim clocking up five wides to Simonstown three but the reds were controlling the game. Simonstown then hit a purple patch and within a six minute period up the end of the half they scored three points to go in at half time six points to three ahead.
Two points from Trim in the fifth and eight minute of the second half left it a one point game and it stayed at this score until the twenty fifth minute when Simonstown scored their first point. Trim replied with a point in the twenty eight and Simonstown again on thirty minutes. So it was into injury time with two points between the teams and five or six minutes of injury time was anticipated due to a number of injuries. Tension was high among the Trim supporters and a Houdini feat would be required to save the day.
On thirty one minutes a Trim attack down the centre of the Simonstown defence culminated in Michael Lowther taking a pass at full speed to bury the ball low into the net. Trim had gone ahead by one point and things looked good. Hearts sank again as Simonstown went down and clocked up another point on thirty four minutes to draw the game. From the kick out Trim gained possession at mid field. A long diagonal ball was sent in to Neill Heffernan's corner. He won possession, turned his man, and headed for goal only to be fouled on the thirteen meter line in front of the posts. The resulting pointed free by Paul Gilsenan in the thirty sixth minute won the game for Trim.
This was an outstanding performance by the Trim lads in terms of the difficulty of the situation. Their backs were "against the wall" but at no time during the game was their any sign of flinching. They gave the impression that failure was not an option with every player leaving his heart out on the Dunderry pitch.
Full marks to Darren Fay and his management team. The decisions on the sideline were timely and effective. Their charges were well prepared and motivated.
Trim - Brendan Murphy, Maurice Power, David Hegarty, Paul Flanagan, Ronan Fitzsimons, Ciaran Joyce, Richard Fitzsimons, Frankie Murphy, Conor O'Keefe, Mark McCormack, Michael Lowther, Paul Gilsenan, Eoin McGrath, Derek Donohoe, Alan Douglas. Subs ~ Neill Heffernan for Michael Lowther, Shane Kennedy,for Eoin McGrath, Michael Lowther for Mark McCormack, Colm Flaherty, Mark Gilsenan, Keith Hamilton, Dara Phelin, Stephan Farrell, Niall Murray.
Report on Meath Junior B Football Championship game between Trim and St Colmcilles in Bective on Sunday.
Trim were given a walk over which left them qualifying for the semi-final.
Most Read Stories