IFC: Na Fianna edge past Syddan
July 19, 2010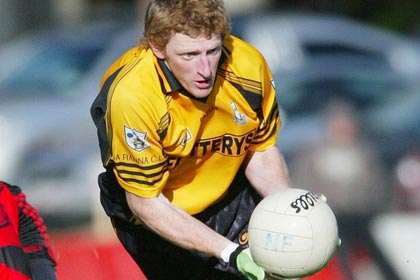 Na Fianna's Ollie Lewis
Na Fianna: 2-07
Syddan: 1-08
Na Fianna gained a hard fought win over Syddan in Walterstown on Friday evening in what was their final group game. This was Na Fianna's second group win, and along with a draw they had against Castletown they finish on five points and must hope for results to favour them in order to earn a quarter final spot.
The first half was a forgettable one for the South Meath side as Syddan were ahead by 1-04 to 0-2 at the break. Na Fianna were struggling to get going at all and a Brian Dillon inspired Syddan took full advantage of their lethargic display. Daniel Queeney pointed all Na Fianna's scores in this half, one coming from a free and the omens were not good for them at half time.
After the break, Syddan pointed straight away and their six point lead looked unassailable until Na Fianna began to dominate the game. Ollie Lewis, Queeney and Dalton McDonagh were causing major problems in the forwards with Tommy Cosgrave dominant at centre back. Mc Donagh netted midway through the first half to really spark the revival and this was closely followed by points from Lewis and Queeney. Queeney then netted soon after good work by Lewis and Na Fianna held on to their lead despite a spirited battle from their opponents.
Best for Na Fianna: Tommy Cosgrave, Daniel Queeney, Dalton Mc Donagh, Christy Cosgrave, Ailbhe Mahon.
Na Fianna: David Mc Cormack, Davy Lyons, Christy Cosgrave, Shane Burke, John Baldwin, Tommy Cosgrave, Padraic Hogan, Ailbhe Mahon, Ollie Lewis (0-2), Damien Downey, Brian Queeney, Rob Walsh, Daniel Queeney (1-04), Diarmuid Bailey, Dalton Mc Donagh (1-01).
Subs: Dean Henrick for Downey, Conor Downey for Burke.
Most Read Stories