IFC: St. Michaels' goals the difference
July 19, 2010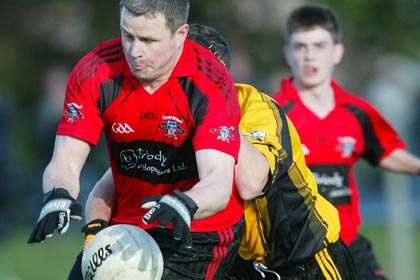 St Michael's Daithi Regan
Intermediate Championship, Group B. 
St. Michaels 2-14
Castletown 1-11
Played in Rathkenny     
Half time St. Michaels 0-6, Castletown  0-4.  
Two second half goals from Daithi Regan, one from the penalty spot, was the difference between the teams at the end of this close and entertaining match played in Rathkenny on Saturday evening last.  
After a slow start Castletown were first on the scoreboard with points on the 8th and 10th minute, St. Michaels replied with points from Ciaran Lynch 0-3, Daithi Regan 0-2 and John Farrell 0-1 to put them two points ahead at the break 0-6 to 0-4. 
2 minutes after the restart Kevin Cassidy was brought down in the square as he collected a rebound off the upright, Daithi Regan converted the resultant penalty. Castletown were not to be outdone and on their next attack scored a fine goal to reduce the deficit to three points with just 8 minutes of the second half gone. Some excellent point scoring from Daithi Regan 0-3, Ciaran Lynch 0-2, J.B. O'Reilly 0-2 kept St. Michaels in front as a resolute Castletown side matched scores with the winners and only trailed by the penalty goal 1-10 to 1-13 with 5 minutes remaining on the clock. In the 58th minute J.B. O' Reilly collected a loose ball in midfield and carried it towards the Castletown goalmouth where he laid it off to Daithi Regan who blasted it to the back of the net to secure St. Michaels a fine win over their North Meath rivals.           
St. Michaels
Paul McCormack, Philip Rogers James Farrell, Daithi Reilly, Peter Clinton, Derek Flood, Sean Gaffney,  J.B. O'Reilly  0-2, Brendan Ryan,  Robert Briody,  Daithi Regan 2-6, John Farrell 0-1,David Lynch, Ciaran Lynch 0-5, Kevin Cassidy.                                                                        
SUBS
Ronan Cassidy for David Lynch. 
BEST FOR ST. MICHAELS
Daithi Regan, Ciaran Lynch, Daithi Reilly, Sean Gaffney & J.B. O'Reilly                          
PASCAL REILLY PRO
Most Read Stories