IFC: Carnaross have it all to do
July 19, 2010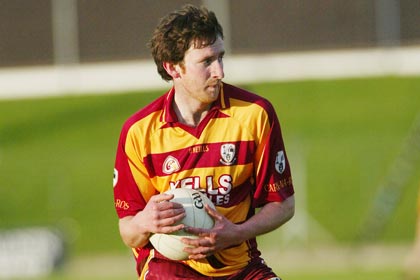 Eamonn Comaskey Carnaross
Carnaross 0-6
Moynalvey 1-7
Intermediate Championship
Played in Bective - 16/7/2010
Carnaross still have it all to do to reach the knockout stages following a disappointing performance against Moynalvey and now need a result against Nobber in the final group game to progress.
The opening twenty minutes were dominated by Moynalvey who led by 1-4 to 0-1 with the Carnaross score coming from a John L McGee free after ten minutes. Carnaross finished the half stronger and scored points from play from Damian Smith and John L McGee. However Moynalvey also added two more points to maintain their six point lead at the break, 1-6 to 0-3.
Carnaross started the second half intent on getting back into the game and two well taken points from play from Niall McDonnell and Dermot McGee gave them the perfect start. Moynalvey converted a point from a free but Niall McDonnell scored his second point after ten minutes. Amazingly this proved to be the last score of the game as neither side registered in the final twenty minutes. Both sides were guilty of missing chances. Carnaross had a late goal chance but John L McGee's effort was kept out as Moynalvey held on for a deserved victory.
Carnaross: Cillian Comaskey; John Plunkett, Thomas Nugent, Patrick Nugent; Eamonn Comaskey, Stein Carpenter, Peter Nugent; Brian Comaskey, Dermot McGee (0-1); Charles Brogan, John L McGee (0-2), Damian Smith (0-1); Niall McDonnell (0-2), Ollie Murphy, Daniel Reilly; Subs: Conor Woods for Daniel Reilly;
--
Carnaross GFC
Carnaross, Kells, Co. Meath.
Email:
[email protected]
Website: www.carnarossgfc.ie
Most Read Stories