IFC: Nobber and St. Colmcille finish all square
May 31, 2010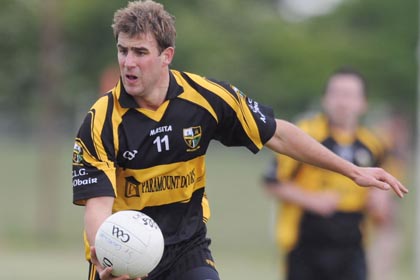 Brian Farrell sets up another Nobber attack during the Meath IFC clash with St Colmcille's at Rathkenny.
In an exciting third round clash, St Colmcille's clawed back a three point deficit with five minutes remaining to earn a share of the spoils.
Nobber opened quickly with a well worked point that was superbly finished by Brian Farrell. The Cilles responded with an equally impressive goal from John McKenna. St Colmcille's then raced in to a lead and at one stage were five points ahead thanks to some great scores from county player Eoin Reilly, Damien Beakey, Enda Grogan and McKenna in the first half for the Cilles leaving them 1-6 to 0-6 ahead at the break.
Nobber emerged for the second half a much more focused and determined team. After clawing back the five points thanks to scores from Niall Farrell, Gavin Farrelly and Brian Farrell, Nobber edged ahead to a one lead. St Colmcille's responded well and were unlucky not to have scored a goal in the final quarter when their goal bound shot rebounded off the crossbar. Nobber moved further ahead when Brian Farrell scored two frees.
St Colmcille's then found an extra gear to score three points in the final minutes to level the match on full time. Three points in as many minutes came from Eoin O'Brien, Graham Reilly and Sean Collier.
Best for Nobber were Brian Farrell and Andrew Hayes and while Eoin Reilly stood out for St Colmcilles.
Nobber - C. O'Reilly, P.Clarke, A.O'Brien, R. Sheilds, P. McEntee, B. O'Reilly, G. Weldon, A. Farrell, G. Farrelly, G. Campbell, B. Farrell, N. Farrell, D. Lambe, J. Owens, A. Hayes. Subs: P.Fox for Campbell,
St. Colmcilles - C Duff, M Metcalfe, F McCloskey, E Woods, K Mullen, M Magill, Ian Mullen, David Sheerin, Sean Collier, Eoin O'Brien, Graham Reilly, Damien Beakey, Cathal Hilliard, Enda Grogan, John McKenna. Subs - Damien O'Brien for Hilliard, Ciaran Kelly for Beakey.
Most Read Stories