SFC: Skryne outscore Stamullen men
May 02, 2010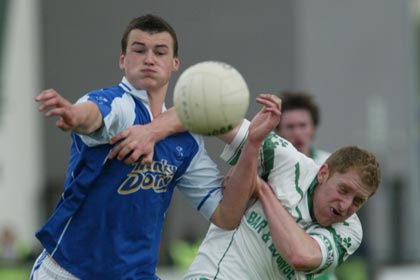 Skryne's Paddy O'Rourke and St Patrick;s Donal Hagan fight for possession during the Meath SFC clash at Ashbourne.
Skryne ............ 0-17
St Patrick's ...... 1-6
Paddy O'Rourke registered seven points as Skryne outscored Stamullen in this Meath Farm Machinery SFC Group B fixture at Ashbourne on Sunday.
Both sides drew their respective opening round fixtures but after a keenly contested opening third Liam Harnan's men pulled away to win with eight points to spare.
Four of the county goalkeeper's effort came from free kicks including one from almost 50 metres that left it 0-14 to 1-3 after 50 minutes.
Ten minutes earlier St Pat's Niall Mooney was dismissed on receipt of his second yellow card. But by that stage the tide had turned against Ciaran O'Hare's men.
Four points on the spin was the Tara men's response to Daithi Whyte's 31st minute white flag and left it 0-11 to 1-3 at the time of Mooney's dismissal following an alternation with James Looby for which the Skryne player was also yellow-carded.
Skryne tagged on four more points - O'Rourke (two) and one each from Mark Battersby and Ian Davis - before substitute Donal Landy ended St Pat's barren spell in the 54th minute.
The respective number 13s wrapped up the scoring Barry Campbell landing a brace of free-kicks for St Patrick's.
Paddy O'Rourke closed the scoring with a long range free in the fifth minute of stoppage time.
Skryne lost Kevin Mulvaney to injury in the opening minute before Trevor Giles pointed them in front at the town end.
The Campbell struck for goal at the second attempt after his initial effort was saved by Felim O'Rourke.
Two point from David McGoldrick saw Skryne level matters, 0-4 to 1-1, by the 11th minute. Then they regained the lead through their top scorer.
Points from James Hegarty (free) and Allan Carty left Skryne 0-7 to 1-2 ahead at the break and they kicked on from the resumption to record their first win of the campaign.
Skryne - F. O'Rourke; A. Curry, D. Beaton, M. Jordan; J. Looby, C. Lenehan, J. Hegarty (0-1, f); A. Tuite, D. McGoldrick (0-3); D. Ryan, T. Giles (0-1), I. Davis (0-2, 1 f); P. O'Rourke (0-7, 4 fs), K. Mulvaney, M. Battersby (0-1). Subs - A. Carty (0-2) for Mulvaney (2), V. O'Reilly for Looby, D.
Morley for Ryan (both 58), Ryan for Davis (60).
St Patrick's - S. Byrne; S. McGinty, D. Hagan, A. Reilly; M. Hagan, K. Whearty, A. Mooney; C. Sullivan, A. Vickers; N. Mooney, R. Russell, N. Whearty; B. Campbell (1-3, 0- fs), D. Whyte (0-1), A. Woods (0-1). Subs - C. Calvey for Vickers (ht), D. Landy (0-1) for McGinty (52), G. Bell for Woods
(57).
Referee - G. McGivney (Simonstown).
Most Read Stories