SFC: Don/Ash back on track against Dul/Bell
May 01, 2010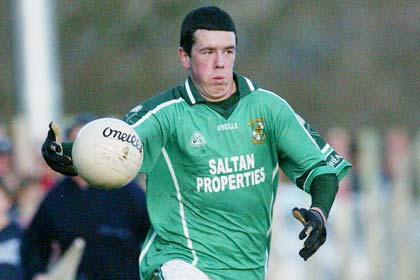 Donaghmore/Ashbourne's Andrew Tormey
Donaghmore Ashbourne 1-09
Duleek/Bellewstown 0-09
Donaghmore Ashbourne got their championship campaign back on track after a hard earned victory over Duleek/Bellewstown in Donore on Friday night. Unlike the league encounter earlier in the season this was a much closer game that was played without any undercurrent as both sides concentrated on playing football.
Donaghmore Ashbourne improved from their opening round against Summerhill and were quickest out of the blocks creating a number of chances in the opening minutes. Andrew Tormey opened the scoring on 3 minutes with a 14 meter free from an acute angle and he doubled his tally a minutes later with a 20 meter free closer to the posts.
Bryan Menton extended Donaghmore Ashbourne's lead on 7 minutes when he collected a loose ball in midfield and pointed from 30 meters after a fine solo run through the Duleek/Bellewstown defence.
Although on top at this point in the game Donaghmore Ashbourne lost their way and Duleek/Bellewstown came into the game. Their opening score came on 8 minutes and the deficit was reduced to a single point with a free on 10 minutes. With both sides battling well in the middle of the field to get the upper hand Duleek/Bellewstown managed to draw the sides level on 13 minutes with a converted 45 meter kick.
Duleek/Bellewstown took the lead on 20 minutes with a well taken free from the sideline and they doubled their lead on 23 minutes with a point from a quick free. Donaghmore Ashbourne had a number of chances in the closing period of the half but Tadg Kelly's converted point from long range was the only success attempt of the four chances created.
Duleek/Bellewstown having their tails up extended their lead early in the second period with two unanswered points on 31 and 33 minutes respectfully. With three points between the sides and Donaghmore Ashbourne heading for a second successive defeat the kick into action and had their best spell of the game.
Andrew Tormey converted a 14 meter free on 35 minutes and this score seemed to settle the side. Donaghmore Ashbourne did miss a couple of chances following this score but were only a point behind when David Morgan pointed on 40 minutes. The sides were level for the second time in the game when Tormey pointed a 30meter free on 42 minutes. Kevin Lanigan restored Donaghmore Ashbourne's lead on 43 minutes but to their credit Duleek/Bellewstown replied with a free on 46 minutes.
The turning point of the game came on 52 minutes when Niall Farrell fond David Morgan with fisted pass about 30 meters out. Morgan headed for gal and as he tried to round the keeper was brought down in the square. After a short delay Andrew Tormey kept his cool to fire home his second penalty of the campaign to give Donaghmore Ashbourne a three point lead going into the closing stages of the game.
Another Tormey free from 45 meters on 54 minutes gave Donaghmore Ashbourne a bit of daylight between the teams but they had to defend for the closing minutes as Duleek/Bellewstown sought a late goal. The final point of the game went to Duleek/Bellewstown in injury time but they were unable to get the required goal to earn a draw.
Overall it was a good Donaghmore Ashbourne performance but they will need to improve on their 14 wides in future games if they have any aspirations of progressing in the competition.
Donaghmore Ashbourne: D. Mc Shane; M. Roche, C. Mc Gill, S. Curran; C. Ellis, C. O'Mealoid, T. Kelly(0-1); B. Menton(0-1), R. O'Connor, E. Riordan, E. Reilly, A, Tormey(1-5) (1P, 5f); D. Morgan(0-1), K.Lanigan(0-1), N, Farrell
Subs: R.McGuire for Lanigan
Most Read Stories