SFC semi-final: High drama as Marys hold off Dreadnots
September 19, 2016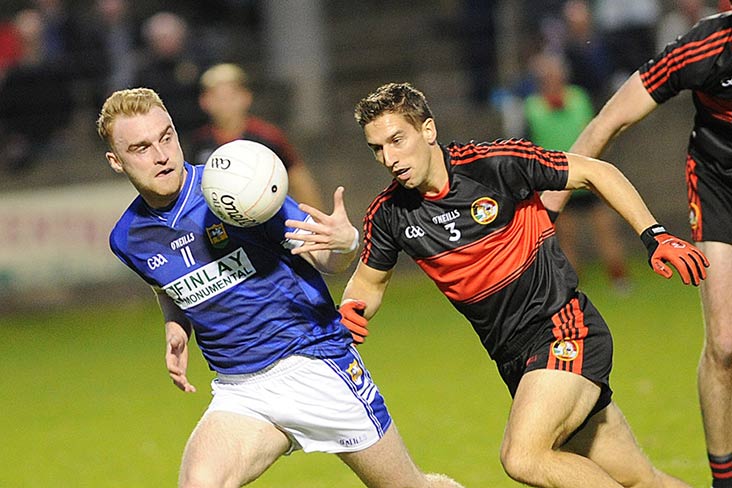 St Marys Paudy Clarke with Padraig Rath (Dreadnots) during the Louth SFC semi final at McGeough Park Haggardstown.
ST MARYS 1-13
DREADNOTS 2-9
St Marys are on course to end their 21-year wait for the Joe Ward Cup after securing a dramatic victory over Dreadnots at Haggardstown on Saturday night.
Darren Clarke was the hero for the Ardee men as he fired over two late points to knock the favourites out in this entertaining semi-final.
St Marys had to overcome the handicap of losing a goal to Conor Campbell straight from the restart, and also the loss of in-form attacker, Alan Kirk, but showed great character to make it through to the decider for the first time since 2003.
The Dreadnots went into the game as favourites to end their wait for Senior Championship success and they received a boost when Campbell cut in to find the back of the net within seconds of the throw-in.
The Ardee men quickly settled but the signs were ominous as they were unable to convert possession into scores. After a series of wides it took them all of 12 minutes to get off the mark when Paudy Clarke pointed.
That proved to be the start of the fight back as Clarke and Mark Fay sent over to level the game before Clarke put his side in front for the first time at the end of the first quarter.
However, they were rocked back on their heels almost immediately when Peter Kirwan got through to add a second goal and make it 2-0 to 0-4.
Once again St Marys refused to panic and two points from Darren Clarke along with another from Paudy had them back in front before Chris Mulroy scored the Dreadnots' first point of the game to level it at 2-1 to 0-7 at the break.
The second half proved to be a real see-saw affair with the lead changing hands on a number of occasions as both teams gave their all in search of victory.
The Ardee men struck the first real blow when Daire McConnon found the net on 35 minutes, but points from Peter Kirwan (2) and Smith levelled the game before Kirwan edged his team ahead by 2-6 to 1-8 on 42 minutes.
Paudy Clarke struck twice to put the Marys in front once more and the teams then traded points before a point from Smith had the Dreadnots in front at 2-9 to 1-11 entering the final two minutes.
In a dramatic end it was the Ardee side who found the extra reserves of energy and Clarke tied things up before landing the winning point from a free. The Dreadnots, who had David O'Brien dismissed for a second yellow late on, just couldn't manage an equaliser and their dreams of championship glory will have to be put on hold for one more year at least.
ST MARYS: Peter Duffy; Conor Keenan, John Bingham (0-1), Barry Faulkner; Eimhin Keenan, Niall Eccles, Brendan Matthews; Ronan Carroll, Robert Leavy; Daire McConnon (1-1), Paudy Clarke (0-6), Mark Fay (0-1), Karl Faulkner, Darren Clarke (0-4), Alan Kirk. Subs: Dean Matthews for A Kirk, Shane McCoy for B Matthews.
DREADNOTS: Kennth Shevlin; Brian Gargan, Padraig Rath, Derek Shevlin; Anthony Williams, Cian McEvoy, Dermot Campbell; David O'Brien, James Califf; Barry Faulkner 0-1, Pepe Smith 0-4, Conor Campbell 1-0; Chris Mulroy 0-1, Richard Kirwan, Peter Kirwan 1-3. Subs: Fergal McGuigan for J Califf, Liam Shevlin for R Kirwan.
Most Read Stories