Louth SFC final: Keenan proves the difference for Pat's
October 31, 2011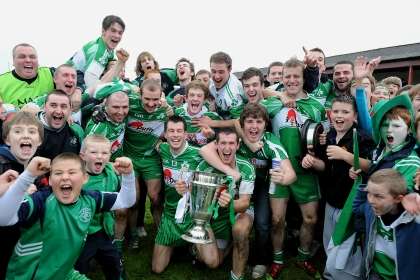 St. Pats celebrate with the Joe Ward Cup at Dowdallshill
St Patrick's 1-12
Newtown Blues 0-9
Paddy Keenan's first-half goal proved crucial at the second time of asking in this tense Louth SFC replay against Newtown Blues at St Brigid's Park yesterday.
It had been nip and tuck throughout the opening stages before a somewhat fortuitous goal was registered by the winners in the 26th minute which saw Ray Finnegan's attempt of a point drop short and break perfectly for Louth colleague Keenan to pounce on and send to the Blues' net for a 1-8 to 0-7 half-time lead.
Newtown came out guns blazing in the second-half with Cormac Reynolds and Hugh McGinn shooting points to bring their side's deficit down to two, but that would be as good as it got for the underdogs as Keenan and O'Connor added to their tallies which secured a fourth title in nine seasons for Pat's.
Scorers - St Patrick's: P Keenan (1-2), E O'Connor (0-4), E Carroll (0-3, 2f), D O'Connor (0-2), K White (0-1). Newtown Blues: C Judge (0-2, 2f), J Kermode (0-2, 2f), H McGinn (0-2, 1f), C Branagan, J Murray, C Reynolds (0-1 each).
St Patrick's: S Connor; J O'Hare, D Finnegan, D O'Hanlon; R Finnegan, E Breen, O Zamboglou; C Goss, P Keenan; P Mallon, S Hynes, A McCann; E Carroll, E O'Connor, D O'Connor. Subs: K White for A McCann (35), C Grogan for S Hynes (59).
Newtown Blues: S McCann; T Costello, C Reynolds, A O'Brien; S Moonan, J Carr, E Judge; B Kermode, K Lynch; J Kermode, H McGinn, C Branagan; J Murray, C Judge, A McDonnell. Subs: I McManus for J Kermode (29), P Moore for T Costello (h-t), B Sharkey for P Moore (48), R Carr for H McGinn (54).
Ref: P Kneel
Most Read Stories