Carthy's double dilemma
May 03, 2012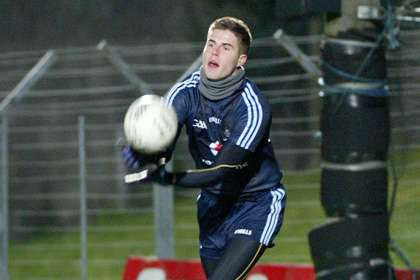 Dublin U21 keeper John Brian Carthy
RTE Radio's Brian Carthy will find himself in the strange position of commentating on a major final this weekend in which his son John Brian is involved.
Carthy will take the microphone for the Cadbury All-Ireland U21FC final between Dublin and his native Roscommon in Tullamore. But apart from having to put his county allegiances to one side, the other dilemma facing the popular commentator is the fact that his son is the Dublin goalkeeper. John Brian plays his club football with St Jude's and has been a solid performer in the Dubs' march to the decider.
It's a dilemma which has faced RTE TV pundit Colm O'Rourke many times in the past when he has to comment on his son Shane's performances for Meath on air. Interestingly, Micheal O Muircheartaigh - who retired as RTE's lead GAA commentator at the end of 2010 - also has a son, Cormac, who played for the Dublin U21 footballers in the mid-1990s.
For more information on the Cadbury GAA Championship go to the official Facebook page or follow it Twitter.
Most Read Stories