Donegal can benefit from McGuinness move - McBrearty
November 13, 2012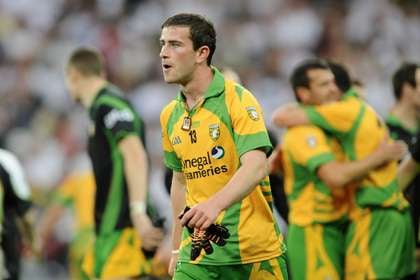 Donegal's Paddy McBrearty
Paddy McBrearty believes Donegal are in "a win-win situation" after Jim McGuinness' recent move to Celtic FC.
McBrearty, who was a former triallist with the Glasgow soccer giants, says he is relishing to learn the new ideas that the Donegal boss will have in store for his players when next season, when defending their All-Ireland SFC crown will be the top priority.
"It's definitely going to benefit us in some way - I have no doubt about that," McBrearty told the Irish Daily Star.
"We're all delighted for Jim because he deserves all of this. It's a massive opportunity for him professionally and it's exciting and interesting. It's a win-win situation for Donegal. I'm sure he'll pick up a lot of things in Glasgow and we can only learn from that.
"When I heard the news I was really happy for him. It's a once in a lifetime chance that you'd hate to look back on later in life and say 'what if…'. No one in Donegal would begrudge him the opportunity after the success he's delivered in the past two seasons."
Most Read Stories