Award was icing on the cake for Lacey
November 08, 2012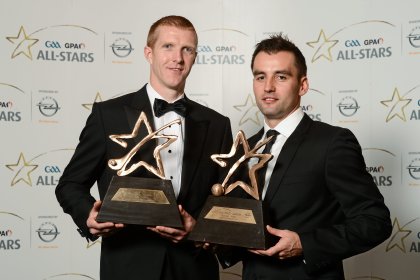 Hurler of the Year Henry Shefflin with footballer of the year Karl Lacey
Karl Lacey says being named Footballer of the Year has capped an unforgettable year for him.
"It has been a great year, from the start of the Ulster championship right through," the Donegal All-Ireland winning centre back told The Irish Daily Star.
"To pick up my fourth All Star and then to win Player of the Year really topped it off. When the lads you play with and against vote for it, it is special. To know they gave me the votes is great."
Lacey joked that he nearly crashed his car when he was told he had won the top accolade.
"I found out on the Tuesday (before the All Stars ceremony) so I had to keep my mouth shut for a while," he explained.
"My girlfriend was in the car with me when I got the call so I had to tell her. I nearly went off the road so she was wondering what the hell that phone call was all about! Then I went straight to Paddy Power, but that bet was closed.
"I was looking forward to the night then, I had my parents and sister and brother with me so it was great."
Most Read Stories