MacCumhaill Park capacity reduced
February 24, 2012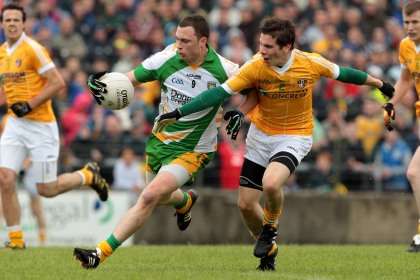 Donegal's Martin McElhinney takes on Kevin O'Boyle of Antrim during the Ulster SFC opener at Ballybofey ©INPHO/Cathal Noonan
The capacity of MacCumhaill Park has been greatly reduced leaving Donegal officials bemused by the decision.
The main GAA grounds in Ballybofey had a capacity of 18,000, but that has been reduced to 12,250 after a safety audit report was released this week.
Donegal officials are concerned that they may lose out on hosting major championship matches following the reduction in capacity.
"If we were to draw say Tyrone or one of the big teams in the championship, there is no way we would be able to stage the game in MacCumhaill Park. It simply would not have the capacity," stressed county board chairman PJ McGowan to the Donegal Democrat.
"I don't want to tempt fate, but if we overcome Cavan, I'm not sure if we could hold the Derry game in Ballybofey. We have a big support and we are the Ulster champions and Derry have a reasonable good support too.
"It's a repeat of last year's Ulster final and given our run last season, there will be a big interest in that game and 12,000 capacity may not be enough to accommodate all those wanting to got to the game.
"I'm very disappointed and surprised with the recommendation. And while I don't want for one minute to take health and safety issues lightly, I find the decision surprising as only two years ago we made improvements to the ground to meet the required standards."
Most Read Stories