IFC: Belturbet edge past 'Bridge into quarter-finals
August 29, 2017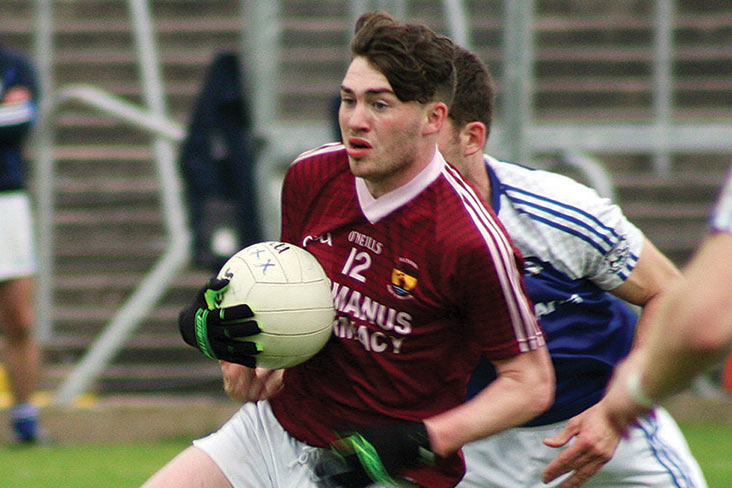 Belturbet's Niall Lawlor
Belturbet 1-11
Butlersbridge 0-10
Belturbet sealed their spot in the Intermediate Championship Quarter Finals when they edged a hard fought derby clash with neighbours Butlersbridge in St.Aidan's Park, Bawnboy on Sunday last.
Butlersbridge made a terrific start to the match racing into an early four point lead. Paul Murphy opened the scoring for the Bridge inside the opening minute when he dissected the posts after Fergal Flanagan and John Fitzpatrick had intertwined. John Fitzpatrick converted three frees in the fifth, sixth and eight minutes to move Butlersbridge into a 0-4 to 0-0 lead early on.
Danny Anscombe drove an inch perfect long kickout into Damien O'Reilly's path, with the midfielder taking a mark before racing clear and curling over for Belturbet's first point, in the ninth minute. Damien O'Reilly laid on the assist for the next Belturbet point arrowing  a free into Enda Henry, with the forward swivelling around before firing his shot high and over the bar, to leave the Rorys 0-4 to 0-2 behind with 16 minutes on the clock.
Butlersbridge worked a goal chance with 17 minutes gone but saw a chance of raising a green flag denied by the top of the crossbar which was rattled. The rebound fell invitingly into the path of Killian Leddy who fired over with ease. Niall Lawlor, Conal McGinley and Damien O'Reilly all linked up to free Fionan O'Reilly in the 21st minute and he delightfully shot over with the outside of the boot from distance to make it a two point game once again. McGinley who was bombing up the wing on a consistent basis again played an astute pass up the left wing to Sean Og Lawlor who gathered possession before firing over a terrific point from the left hand side of the pitch. Conal McGinley converted a 24th minute 45 to tie the game up a 0-5 apiece.
Eoin McGuigan intercepted a short kickout from Darren Fitzpatrick, before racing through on the Butlersbridge goal only to be denied by a splendid save from the Butlersbridge goalkeeper, who dived superbly to his right to keep out the shot. Conal McGinley converted the resultant 45 to move the Rorys ahead for the first time in the 25th minute. Sean Og Lawlor's good approach play teed up Fionan O'Reilly who blazed over from an acute angle with 26 minutes gone. Henry then laid on the next point for Fionan O'Reilly, who superbly shot over a glorious point from the right hand wing to leave Belturbet 0-8 to 0-5 ahead, with 27 minutes on the stopwatch.
The Bridge having conceded six points on the bounce got a badly needed point through the boot of Paul Murphy in the 28th minute. John Fitzpatrick kicked a free two minutes into first half stoppage time to leave the half time scoreboard 0-8 to 0-7 in Belturbet's favour.
Killian Leddy used his pace to run in along the right hand endline and fist over a point to level the match at 0-8 each with 32 minutes gone. The crucial score in this contest arrived in the 36th minute when Belturbet worked the ball at speed through the Butlersbridge defence, with Eoin McGuigan getting on the end of the move, to bury his shot into the bottom right hand corner of the net. The Rorys had another goal chance in the 42nd minute when Cian Vaughan was foiled by a tremendous point blank stop from Darren Fitzpatrick.
Andrew McConnell finished a flowing Bridge move with Declan Callaghan, Peter Conaty and Paul Murphy all involved to hammer over a point from the left hand wing in the 44th minute. Shane Fitzpatrick, Niall Lawlor and Conal all were involved in providing Eoin McGuigan with the opportunity to shoot and he made no mistake in tapping over the bar to make it 1-9 to 0-9 with 53 minutes on the clock. Killian Leddy who was a real livewire throughout kicked another point to make it a two point game a minute later.
Shane Fitzpatrick, Mark Lawlor and Donal McDonald worked the ball at breakneck speed up the pitch before passing to John Cahill. Cahill shipped a fine pass off to Enda Henry who hammered over to leave Padraig Dolan's side with a 1-10 to 0-10 lead with 57 minutes gone.
Belturbet closed out the game with a very solid defensive performance which allowed their attack to get on a lot of possession entering the final minutes. Donal McDonald kicked the insurance point four minutes into  injury time to rubberstamp the victory for the Rorys.
Belturbet: Danny Anscombe, Shane Fitzpatrick, Mark Lawlor, Peter Shannon, Niall O'Reilly, Kevin McConnell, Conal McGinley(0-2  2 45), Eoin McGuigan(1-1), Damien O'Reilly(0-1), Stuart Dunne, Fionan O'Reilly(0-3), Niall Lawlor, Sean Og Lawlor(0-1), Enda Henry(0-2), Cian Vaughan. Subs Used: Mark Teevan, Ryan McGovern, Donal McDonald(0-1), John Cahill.
Butlersbridge: Darren Fitzpatrick, Patrick Flynn, Padraig McGearty, Niall McGovern, Declan Callaghan, Fergal Flanagan, Andrew McConnell(0-1), Liam Canning, Peter Conaty, Killian Leddy(0-3), Shane O'Rourke, Ronan Donnellan, Paul Murphy(0-2), John Fitzpatrick(0-4 4f), Cahir O'Reilly. Subs used: Kevin Conneely, Karlos Conlon.
Referee: Jim Giblin.
Most Read Stories