IFC: Arva and Rorys share the spoils in absorbing battle
August 15, 2016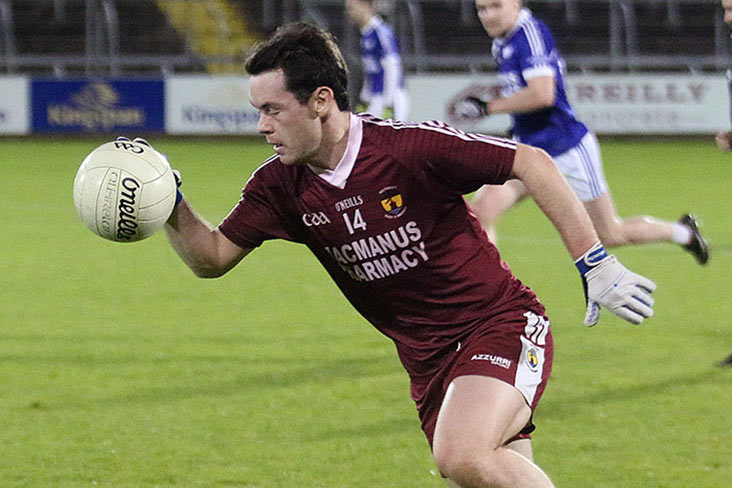 Belturbet's Brendan Fitzpatrick
Belturbet 2-14
Arva 2-14
Arva's Kevin Bouchier held his nerve to convert a free deep into stoppage time to rescue a draw for his side in a pulsating contest with Belturbet in the Ballinagh Gaa Grounds on Saturday evening last.
Kevin Bouchier got Arva off the mark in the first half opening the scoring in the second minute via a free. The Rorys levelled the match with seven minutes on the clock, when Niall O'Reilly caressed a lovely strike over the bar after Eoin McGuigan, Shane Fitzpatrick and Donal McDonald had all excellently linked up. Conal McGinley converted a fantastic 45 to move Jason O'Reilly's side in front by 0-2 to 0-1 with nine minutes gone.
Belturbet cut the Arva defence wide open in the 11th minute with Niall O'Reilly, Niall Lawlor and Donal McDonald all heavily involved with the final pass being laid into the path of Brendan Fitzpatrick. The full forward produced a trademark jink before rifling his shot into  the roof of Richard Keith's net via the underside of the crossbar.
Arva's Kevin Bouchier reduced his side's arrears to 1-2 to 0-2 with a 17th minute free before he knocked over his third free of the half after Jonathan McCabe had been impeded in the 19th minute. Arva were enjoying a period of supremacy and they reduced their arrears to a solitary point in the 23rd minute with Peter Morris splitting the posts after taking a quick  give and go from a free. Belturbet responded a minute later with Brendan Fitzpatrick playing a pass up to Enda Henry. The county forward played an astute pass into Donal McDonald, who produced a clever flick down to Henry, who curled over a point on the run. Kevin Bouchier converted Arva's fourth point from a dead ball in the first half after Ciaran Brady's run had been halted in the 28th minute to again leave a point separating the sides.
Arva were very wasteful in the closing stages of the first half, hitting three bad wides, in succession. This ensured that Belturbet carried a slender 1-3 to 0-5 advantage into the half time break.
Kevin Bouchier converted an exquisite 45 from the left hand side of the field, just seconds into the second half, to tie the game for the second time in the match. Belturbet indiscipline in the tackle was proving to be their arch nemesis and another indiscretion lead to Conor McEntee converting a 33rd minute free to move Peter Reilly's charges 0-7 to 1-3 ahead.
Donal McDonald fired over a howitzer from the right hand wing in the 34th minute to level proceedings at 1-4 to 0-7. McCabe got his first point of the evening in the 35th minute after Arva had strung together an intricate passage of play. Enda Henry hammered over a stunning point from long range as the game continued to be played at a frenetic pace with the scoreboard now 1-5 to 0-8 after 36 minutes. Peter Conneely again swung the lead back in Arva's favour with a well taken point in the 37th minute. Jonathan McCabe produced a moment of class in the 38th minute fielding a superb high catch despite the attentions of three Belturbet players. He then raced towards the Belturbet goal, before clinically dispatching his shot to the back of Shane O'Gara's net to move his side 1-9 to 1-5 ahead.
Enda Henry stroked over a free as Belturbet instantly responded to this setback and they reduced their arrears to 1-9 to 1-7 when Brendan Fitzpatrick curled over a peach of a point in the 42nd minute. Niall O'Reilly nailed another superb long range point for the Rory's to leave just the minimum between the sides with 44 minutes gone. Arva restored their four point lead midway through the second half, when they worked a very clever overlap that had the Belturbet defence on the back foot. Peter Morris got on the ball and ran unopposed towards O'Gara's goal before driving a rasping shot to the back of the net.
The ever dependable Henry converted another free in the 48th minute to leave the scoreboard 2-9 to 1-9 in Arva's favour. Ciaran Brady produced a fine block high up the pitch in the 50th minute, which lead to Jonathan McCabe splitting the posts, to again move Arva four points clear. Henry knocked over a free in the 51st minute to leave it a three point game. Brendan Fitzpatrick, who caused Arva problems all game with his skill and driving runs was on target again, in the 52nd minute with a superb point to slash his side's arrears to 2-10 to 1-11.
Enda Henry again notched another free after Stuart Dunne had been poleaxed running forward to leave it a one point game with 60 minutes gone. Ciaran Brady and Kevin Bouchier scored two quickfire points to leave them their side with a 2-12 to 1-12 lead with three minutes of injury time played. There was still plenty of time for Belturbet to make a comeback which is what transpired as referee Packie Smith played 12 minutes of second half injury time. It turned out to be an action packed stoppage time as the game see-sawed one way and then the other. Belturbet were gifted a goal in the 65th minute, when a high innocus ball was spilled by Richard Keith, to the arch goal getter Jason O'Reilly who rolled the ball into the net. Stuart Dunne finished off a well worked Rorys move to hammer over a point which sneaked inside the uprights to move Belturbet 2-13 to 2-12 ahead with 66 minutes gone. Both sides were reduced to 14 men in injury time with James Morris and Peter Shannon picking up second bookings respectively. Enda Henry moved Belturbet two points in front before Brian Ellis responded for Arva to leave it a one point game. Kevin Bouchier showed nerves of steel to convert a free from the left hand wing with virtually the last kick of the match and give both sides a share of the spoils.
Belturbet: Shane O'Gara, Shane Fitzpatrick, Mark Lawlor, Peter Shannon, John Cahill, Stuart Dunne(0-1), Conal McGinley(0-1 1 45), Cian Vaughan, Eoin McGuigan, Enda Henry(0-7 4f), Donal McDonald(0-1), Niall Lawlor, Kevin McConnell, Niall O'Reilly(0-2), Brendan Fitzpatrick(1-2). Subs: Jason O'Reilly(1-0), Damien O'Reilly, Sean Og Lawlor.
Arva: Richard Keith, Cormac McCabe, Thomas Brady, Danny Ellis, Stephen Ellis, James Morris, Conor McEntee(0-1 1f), Fergal McGlade, Ciaran Brady(0-1), Peter Morris(1-1), Jonathan McCabe(1-2), Paul Bouchier, Ciaran Cooney, Brian Ellis(0-1), Kevin Bouchier(0-7 5f, 1 45). Subs: Peter Conneely(0-1), Shane Hamilton.
Referee: Packie Smith.
Most Read Stories