SFC: Lacken's late show sinks Cavan Gaels
August 13, 2016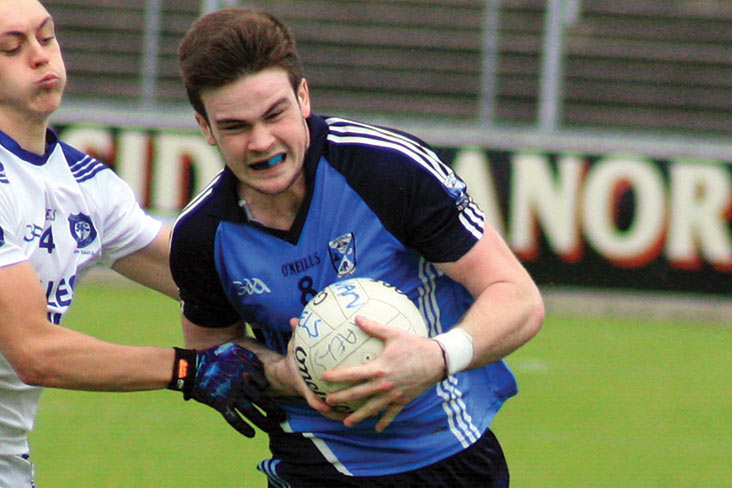 Lacken's Thomas Galligan
Lacken 1-15
Cavan Gaels 3-7
Lacken timed their finish to utter perfection tonight at Kingspan Breffni Park to upset Cavan Gaels and pick up their first win of this year's senior championship.
In what was an intriguing and whole-hearted championship affair, Finbar O'Reilly's side could afford to ship three goals to their opponents as they outscored them by 0-7 to 0-1 in the final 17 minutes with Niall McKiernan (0-7) and Conor Finnegan stepping up to the mark when it mattered most in the dying stages.
Martin Dunne's 1-4 tally in the first-half wouldn't even be enough to give the Gaels the lead at half-time thanks to Thomas Galligan's long range effort dropping into the net just before the short whistle. However, Anthony Forde's charges did look to be on route to victory once Micheál Lyng sent in a pair of goals within 10 minutes of the restart.
Lacken's heads never dropped though and they threw everything they had at their former conquerors in that closing quarter, with their competition on the line, and it propelled them a long-awaited championship win over this opposition.
A Dunne free had the Gaels up and running inside the first minute but their counterparts in sky blue soon got into their rhythm with a McKiernan free being backed up by Stephen Brady in the eighth minute.
The Lacken lead was doubled some 60 seconds later thanks to a gem along the left flank from McKiernan prior to the men from Cavan town enjoying a profitable five minute spell where they struck for an unanswered 1-3.
Two Dunne points from open play split Daniel Graham's sole score for the night and when Marc Leddy was brought down on a burst through Lacken's last line referee Margaret Farrelly had other option but to signal horizontal arms and award the penalty, which was expertly tucked away by Dunne.
The ex-Cavan forward put the Gaels five to the good on the 20-minute mark, but it would have only been two had Finnegan not seen his goal effort well saved by Martin Cassidy down the far end.
The closing 10 minutes of the half belonged to O'Reilly's men however, with McKiernan (free) and Thomas Galligan raising white flags before the latter's overhit pass to McKiernan in the square dipped in under the crossbar and over Cassidy's head for all three points.
The goal could not have come at a more ideal time for Lacken, as a free from McKiernan a minute afterwards saw them take in a one-point lead (1-6 to 1-5) for the break.
The start of the second-half didn't go to script for the underdogs though, with Lyng having crept past them to find the back of Colin Comerford's net just as the half had grown three minutes old.
Points from Finnegan (free) and McKiernan kept the minimum between them, but another lapse at the back from the Sky Blues allowed Lyng in for his second major in the 40th minute. The former county senior made it look easy as he 'one-towed' with Andrew Graham to rush past Lacken's full-back line untouched and apply another smart finish.
Leddy's fisted point a minute later had Forde's men four to the good approaching the final quarter as a routine close out looked likely from the former champions.
However, quick scores from McKiernan and Declan Brady showed that there was still an abundance of belief in the trailers and as Thomas Galligan punched over Cassidy's crossbar with 10 to go it became more and more evident that a tense finish was in store.
Both sides missed chances late on until Graham grabbed the rebound of Shane Fortune's blocked effort and tapped over to hand the initiative back to the Gaels with three left in regulation.
Finnegan held his nerve to convert two late free which levelled things up right on the hour mark and when McKiernan gained possession from the resultant kick out he landed a hopeful ball in on top of James Galligan, who gathered, turned and pointed for the injury-time lead.
That left the Gaels hunting for an equaliser that never came their way, as McKiernan's monster free towards the end put the seal on a memorable victory for Lacken.
Lacken: Colin Comerford; Kevin Shanaghy, Daithi Wilson, Declan Brady (0-1); Craig Lanauze, James Galligan (0-1), Killian Galligan; Thomas Galligan (1-2), Shane O'Reilly; Shane Finnegan, Niall McKiernan (0-7, 5f), Philip  Moynagh; Stephen Brady (0-1, 1f), Conor Finnegan (0-3, 3f), Paul Leddy. Subs: James Moynagh for C Lanauze (23mins), Shane Moynagh for S Brady (27, b/c), Damien McKiernan for P Moynagh (45), Daryl Buckley for P Leddy (55), Micheál Shanaghy for K Galligan (57).
Cavan Gaels: Martin Cassidy; Daniel Graham (0-1), Luke Fortune, Kevin Meehan; Robert Maloney-Derham, Niall Murray, Levi Murphy; Niall Gurhy, Marc Leddy (0-1); Shane Fortune, Micheál Lyng (2-0), Kevin Brady; Padraig Sexton, Martin Dunne (1-4, 2f, 1 pen), Andrew Graham (0-1). Subs: Paul O'Connor for P Sexton (44), Niall Smith for K Brady (52), Sean Johnston for A Graham (59).
Ref: Margaret Farrelly (Laragh United)
Most Read Stories