Grimley welcomes new Armagh sponsors
November 02, 2012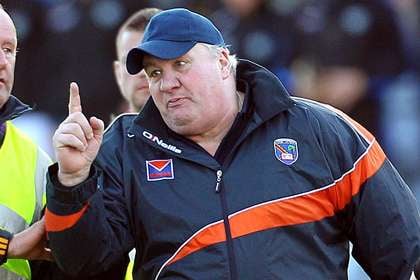 Armagh manager Paul Grimley
Armagh boss Paul Grimley has hailed the arrival of new county sponsors Rainbow Communications.
The Pearse Og club man has said that things are at "an exciting transitional period" in the Orchard County at present, with the news of the new sponsorship deal coming as music to his ears as he himself is currently providing the dynamic for a fundraising drive aimed at helping to raise Armagh's profile in several respects.
This year will see Armagh hosting an open-air concert, a gala evening and several other events in order to try and reduce their coffers after the recent development of the Athletic Grounds.
"While we are delighted to have Rainbow on board, this does not mean that we will be resting on our laurels," Grimley told the Belfast Telegraph.
"There is much to do on the fund-raising front and the initial response from our volunteer helpers is most encouraging.
"We have mapped out a schedule which will embrace the next 12 months and the hope is that we will be able to improve our finances and enhance our image as a result of this."
Most Read Stories