Colleges SHC 'B': Joseph's to meet Mary's in final
March 05, 2012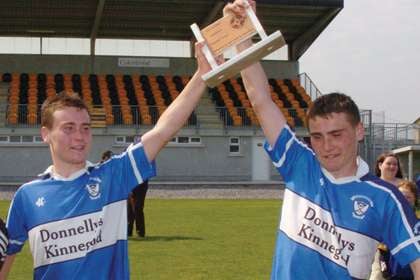 Raharney's Ciaran and Killian Doyle played a big part in St. Joseph's, Rochfortbridge win over Woodford in the All Ireland Colleges SHC B semi final.
St. Joseph's, Rochfortbridge will face St. Mary's, Belfast in the All-Ireland Colleges SHC 'B' final on March 24 following their respective semi-final wins over Mercy College, Woodford and Doon CBS on Saturday.
Westmeath outfit St. Joseph's, who are better known for their footballing exploits, were impressive 4-5 to 0-9 winners over Galway side Woodford in Banagher. All of their scores came from their all-Raharney full forward line of the 14-year-old Doyle twins, Ciaran and Killian, and Robbie Greville. Ciaran Doyle top-scored with 2-3 in a game that saw Rochfortbridge lead by 2-1 to 0-6 at the break.
In the other semi-final at the DCU Sportsgrounds, late points from Michael Bradley, Darragh McGuinness and goalkeeper Padraig Nugent gave St. Mary's a 0-13 to 0-11 victory over Doon CBS from Limerick.
Most Read Stories