'Gooch' doesn't think Kerry have missed their chance
September 13, 2019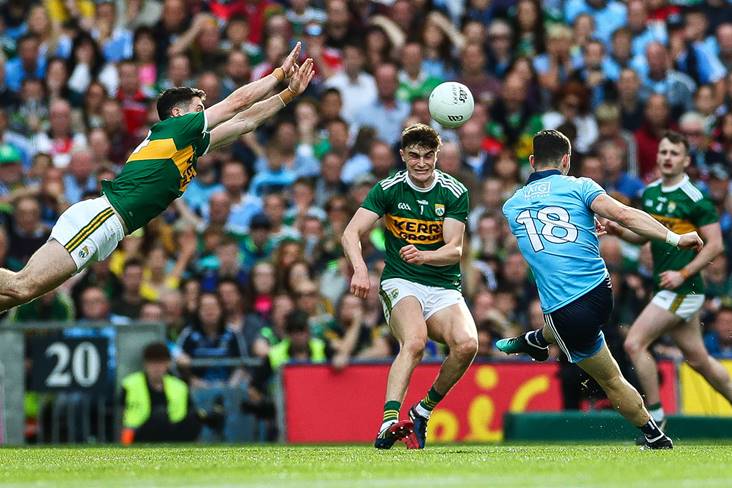 Dublin's Diarmuid Connolly shoots at goal while Kerry's Paul Geaney attempts to block. ©INPHO/James Crombie.
Colm Cooper doesn't subscribe to the view that Kerry have missed the boat.
Speaking to the AIB GAA Podcast ahead of tomorrow's All-Ireland final replay, the Kingdom legend stated: "No, I don't think so.
"They certainly had their chance and should have won the match. Kerry have a lot of quality in the team — I know there are a lot of young players there and that's why I think the second time around, they should be even more comfortable in Croke Park.
"If you had said David Clifford, Paul Geaney and Stephen O'Brien wouldn't be the chief scorers for Kerry, the Dubs would have bit your arm off for that before the game. So there's improvement in those guys, and I think that's what Kerry are feeling. They coped well. The big questions for Kerry the last day were how would they cope with Con O'Callaghan and Paul Mannion?
"They did pretty well, as well as any team over the past number of years. That's why people are so encouraged and it's leading into the match where people think Dublin will improve, but I think there's another 10% in Kerry as well."
Cooper admitted that Kerry supporters are more optimistic than they were before the drawn encounter.
"The expectancy has gone up in Kerry because, if we're honest, I don't think we knew if we were up at Dublin's level, and how we would perform. They certainly showed that they are there or thereabouts, that they're knocking on the door, and on another day… they probably should have won it, being honest," he added.
"We're not kidding ourselves, Dublin will be better and if I analyse the game, I would say four to five Dublin players would be happy with their performance. Outside of that, I think there's a load of room for improvement. We have room to improve too and, putting all of that into the mix, it's just so beautifully poised and that's why everyone is looking forward to it."
Most Read Stories