Whelan expects to see O'Carroll back in blue but not as optimistic about Connolly
April 24, 2019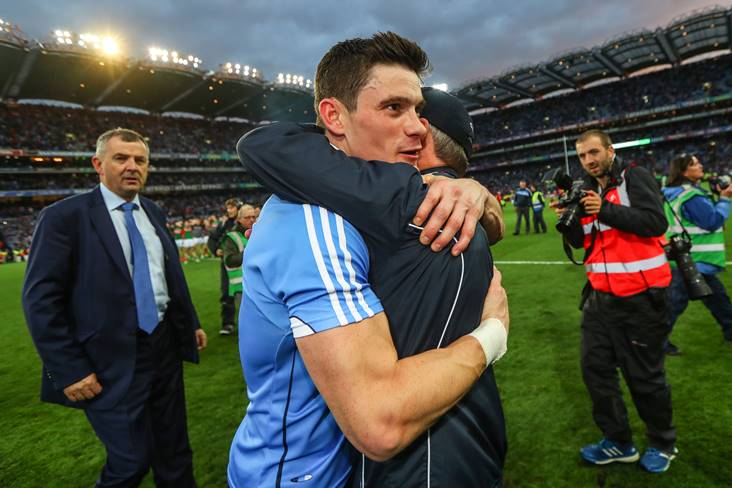 Dublin's Diarmuid Connolly celebrates with manager Jim Gavin.
©INPHO/James Crombie.
Ciaran Whelan expects to see Rory O'Carroll back in the Dublin fold for the championship but would be surprised if Diarmuid Connolly is on board for the 'Drive for Five'.
Speaking to RTÉ Sport, the former Sky Blue midfielder discussed the main topic of conversation in Dublin GAA circles, and beyond, as the clock ticks down to the start of what could be an historic championship campaign.
On Kilmacud Crokes full-back O'Carroll, who recently returned from a stint in New Zealand, Whelan said: "By all accounts he's going to be back in the panel. After the club championship you might see him back."
As regards Connolly, Whelan continued: "Every Dublin fan would be delighted to see Diarmuid back, but that's his decision. I don't know has there been much engagement between Dermot and Jim (Gavin).
"He's playing for Vincent's, he has the appetite back for playing for Vincent's and that has to be a positive, and you'd like to think that that door could open at some stage, but that doesn't look likely at the moment.
"You have to respect his decision if he doesn't want to come back, but in terms of what he brings to the forward line I'd love to see him back.
"Something that has been missing in the League is somebody who has that X-factor and even just having him there takes out one of the opposition's key defenders which frees up somebody else. I'm not as optimistic about him returning as I am Rory."
Most Read Stories