Long wait for club semi-finals "crazy" - Fitzgerald
February 12, 2019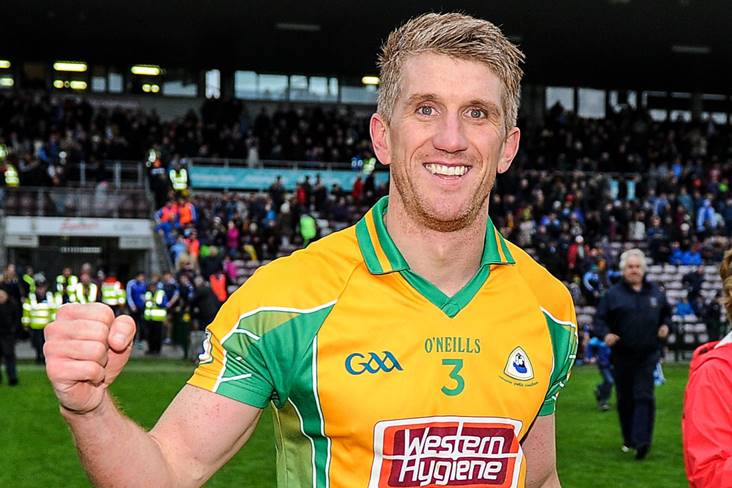 Corofin's Kieran Fitzgerald celebrates.
©INPHO/Tommy Grealy.
Corofin full back Kieran Fitzgerald reckons not finishing the club championships in one calendar year is crazy.
Having captured his 13th Galway SFC in November followed by a fifth Connacht Club SFC medal later the same month, Fitzgerald is preparing to lock horns with Gweedore on Saturday for a place in the All-Ireland final.
Although he's used to it, he's not a fan of the long wait between games: "It is crazy and I think it has to change. St Patrick's Day, while it's well known for club finals, has to change," the former All Star comments in The Irish Independent.
"If you had someone from another sporting body and you explained to them that these guys are training for 60, 70 days for one game they'd think it was mad. From a GAA point of view, before Christmas it is all club: county finals and provincial finals dominate what's happening at the time. Then all of a sudden it just stops and then when it comes back it gets lost.
"We play Gaoth Dobhair on Saturday and by then I feel the GAA community has lost interest in the club game and the intercounty season has started and there's huge enthusiasm with new managers and all that and between that and the Sigerson it gets lost.
"If it was structured a bit better you could have a club final two weeks before Christmas and I don't think any club player would have a problem with that - playing under lights in Croke Park. Then the club season is finished and the intercounty season can move on."
Most Read Stories