Beggan is Ulster's finest
September 14, 2018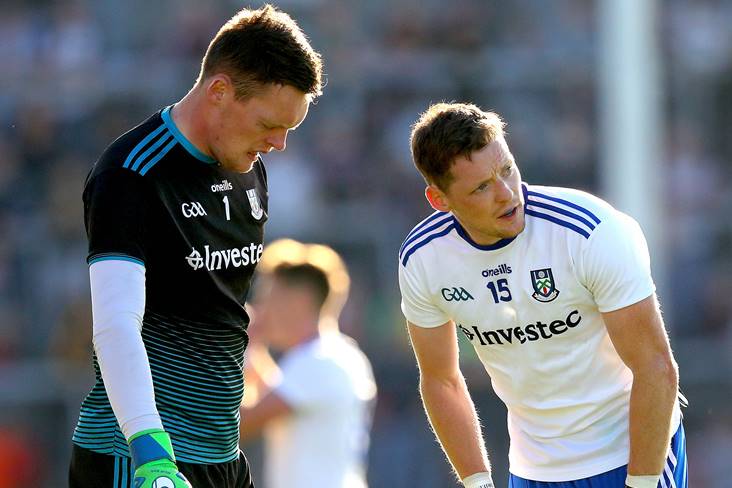 Monaghan goalkeeper Rory Beggan and Conor McManus discuss a free.
©INPHO/Ryan Byrne.
Rory Beggan was last night named as the Ulster Player of the Year at the Irish News Ulster Allstar awards in the Armagh City Hotel.
The goalkeeper scooped the top gong after starring in Monaghan's run to the All-Ireland SFC semi-final. He was one of six players from the Farney County to be honoured with Irish News Allstars, joining team-mates Drew Wylie, Karl O'Connell, Conor McManus, Ryan McAnespie and Ryan Wylie.
Despite reaching the All-Ireland final, Tyrone received one less Allstar than Monaghan with Padraig Hampsey, Mattie Donnelly, Colm Cavanagh, Niall Sludden and Connor McAliskey making up their winning quintet.
Ulster champions Donegal had Eoghan 'Ban' Gallagher, Michael Murphy and Ryan McHugh named, with Sean Quigley from runners-up Fermanagh completing the line-up.
2018 Irish News Ulster Allstar team: Rory Beggan (Monaghan); Padraig Hampsey (Tyrone), Drew Wylie (Monaghan), Ryan Wylie (Monaghan); Eoghan 'Ban' Gallagher (Donegal), Mattie Donnelly (Tyrone), Karl O'Connell (Monaghan); Colm Cavanagh (Tyrone), Michael Murphy (Donegal); Ryan McAnespie (Monaghan), Niall Sludden (Tyrone), Ryan McHugh (Donegal); Connor McAliskey (Tyrone), Sean Quigley (Fermanagh), Conor McManus (Monaghan).
Most Read Stories