Poetry in motion as Donaghy calls time on illustrious Kerry career
September 11, 2018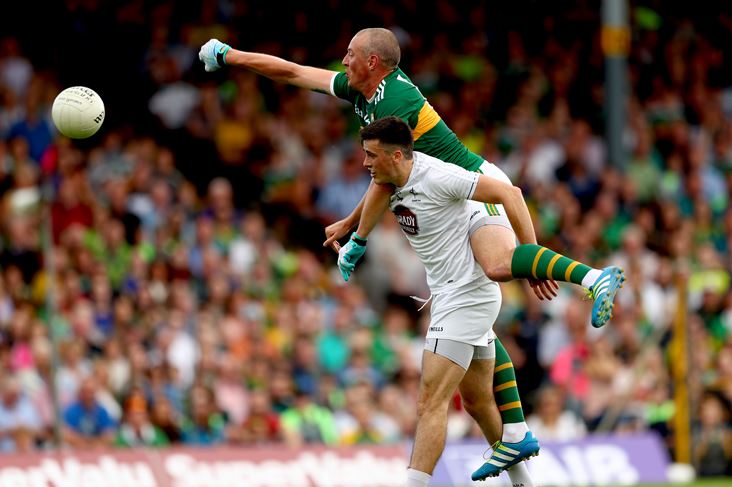 Kerry's Kieran Donaghy and Mick O'Grady of Kildare
After 14 years' service, Kerry great Kieran Donaghy has announced his retirement from intercounty football.
The 35-year-old enjoyed an illustrious playing career with the Kingdom, winning four All-Irelands and three All Stars as well as being selected as the 2006 Footballer of the Year. He also collected three national league medals and eight Munster SFC souvenirs.
He broke into the Kerry team in 2005, having rose to prominence during TG4's reality television show 'Underdogs' the previous year.
In '06, manager Jack O'Connor converted Donaghy into a target man, relocating him from midfield to the edge of the square, and All-Ireland success followed instantly. Nicknamed 'Star', the Austin Stacks clubman formed a lethal partnership with Colm 'Gooch' Cooper.
Further Sam Maguire successes arrived in 2007, 2009 and 2014 for Donaghy, who has represented Ireland in basketball. He also represented his country in the International Rules series in 2006 and 2008. The inimitable Tralee man confirmed his retirement with the following statement and also posted a poem on Twitter in the early hours of this morning:
"Today I wish to announce my retirement from the Kerry Senior Football team. The journey has been full of ups and downs but I never wanted it to end. It has surpassed even my wildest dreams, that a basketball kid from Tralee would end up playing 69 times in the championship over a 14 year period for the famous Green and Gold.
"To every one of my Kerry teammates who I was lucky enough to have played with, I thank you for your patience, help and advice during those years. I'm blessed to have had the time of my life with you boys fighting on my back trying to win games for Kerry. We had some tough times, such is life but the wonderful stories and memories we shared will stick with me forever.
"To get the opportunity to soldier with and against some of the greatest players of all time is something I will always treasure.
"During my career I have been lucky enough to work with some great Kerry managers and their respective management teams. They took a chance on me, believed in me in massive high-pressure situations. They gave me the confidence to develop my game which allowed me to perform on the biggest of occasions for Kerry .
"I would like to thank the Kerry County Board along with our sponsors Kerry Group, backroom staff and medical teams for their constant help and guidance throughout my career. Your unbelievable work is not seen by many but it's massively appreciated by the team and by me.
"A huge thank you to the loyal Kerry fans who traveled far and wide to watch and support us. We love football in this county and while there is a pressure to perform we always embrace it. We need to get behind this young team we will have next year, so get the flags out and get to the games to support the boys.
"I would also like to thank all the supporters who live abroad but continue their love and support of Kerry.
"I would like to thank my club Austin Stacks, everything I achieved is a direct result of the help and guidance ye gave me from an early age. To represent this great club is always a massive privilege and our county championship win in 2014 gave me the ultimate honour the following season. To be captain of a county like Kerry is something I'm extremely proud to have accomplished.
"To my family, without you none of this would have been possible. Mom, I am forever grateful to you for believing in me and showing me how to be a good person first and foremost.
"To my wife Hilary, you're all that I could ask for, thank you so much for always putting me first during my career , we have had so many wonderful experiences together throughout this journey and made life long friends along the way I can't wait to start the next exciting chapter together with Lola-Rose & Indie.
"To the rest of my family, thank you for your support and always having my back.
"I'm a proud Kerry man and to have represented this county meant absolutely everything to me. As the great John B Keane once said, 'I'm one lucky hoor!'"
Most Read Stories