"I'm just mystified as to why teams continue to do it"
September 11, 2018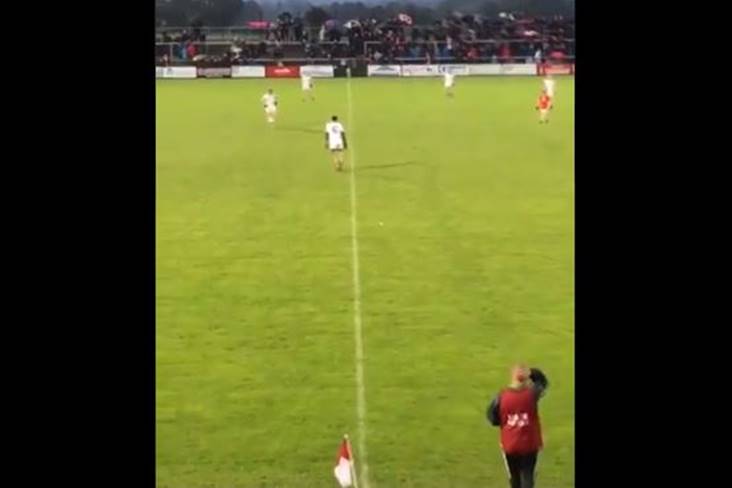 Slaughtneil midfielder Padraig Cassidy solos the ball at walking pace inside his own half during the Derry SFC clash against Magherafelt at Owenbeg.
Chrissy McKaigue was bemused by the bizarre four minutes of football that preceded half time at Owenbeg on Sunday.
Holders Slaughtneil were playing Magherafelt in the first round of the Derry SFC and led by 0-4 to 0-3 with half time approaching, playing into a stiff breeze.
When Magherafelt, despite being behind, opted to drop all 15 men back into their own half, Slaughtneil midfielder Padraig Cassidy soloed the ball around at walking pace for almost four minutes as a chorus of boos rang out.
The holders kept their bid for a fifth successive title intact with a 0-10 to 0-5 victory and McKaigue says he can't understand why teams persist with such defensive tactics:
"I'm just mystified as to why teams continue to do it," the Derry ace told 2FM's Game On. "A large segment of the public are pretty frustrated with gaelic football and where it's gone. You can see why people are frustrated with it.
"Personally, I don't think that any rules changes needed but there is an onus on the coaches to get away from that approach.
"I'm convinced that you will not win any real prizes playing that brand of football. It's becoming easier to play against and is not attractive to watch. I don't think a team that plays that style of football will win anything, they might win a one-off game against a big team but to get sustained success, I don't think it's the way you should be playing.
"If a coach has any real ambition or wants to leave a real legacy behind them, they've got to be looking at the development of the players and the development of the club."
Most Read Stories